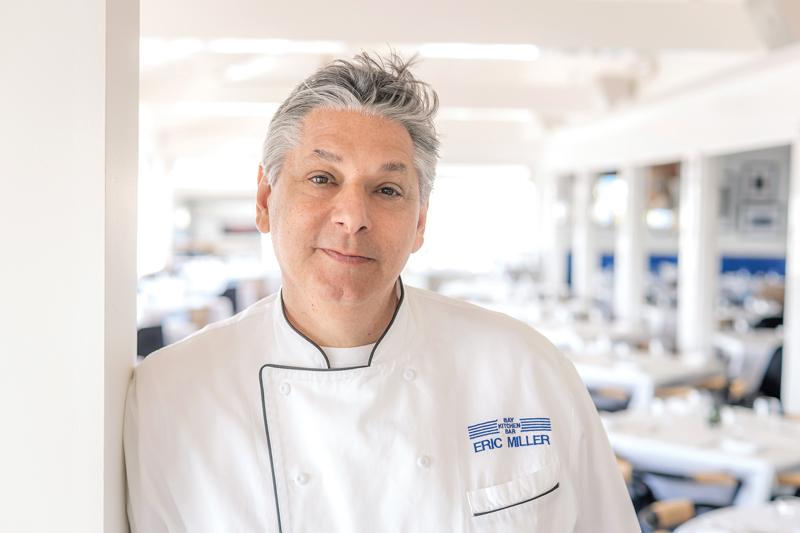 Whether you fancy freshly shucked oysters, flash-fried soft shell crab, or simply chilled rosé with unforgettable views of Three Mile Harbor, Bay Kitchen Bar is foodie paradise. But what did you expect with seasoned chef Eric Miller at the helm? His revamped summer coastal cuisine and new Montauk eatery are sure to sate your summer palate. The chef is in!
When did your love affair with food begin?
I grew up in an old-school family, and getting together for meals for the Jewish holidays was super important. My grandmother cooked the old-country recipes. It was important to sit around the dinner table together.
Where did you cut your teeth?
I went to the Culinary Institute of America as opposed to going to college like everyone else. Then I went to New York City and worked in the kitchens at big hotels, like Helmsley Palace Hotel.
Since then, you must have rubbed elbows with a number of renowned chefs…
I worked for someone who worked for Claude Bosi, a Michelin-starred chef from Europe. Then I worked for Christian Delouvrier at Maurice at the Parker Meridien—a lot of talented people came out of his kitchen. I went into business a little sooner than I should have when I opened my first restaurant, City Café, but I would hire people who knew more than I did—guys who were accomplished but in between jobs. I got a chance to work with Marc Salonsky, who had worked at the Park Meridien; Dave Pasternack, who was at Esca; and Keith Rennie, who was one of the first to open a place on the Lower East Side before it was fashionable. And I got to work with Mark Strausman, who runs Freds at Barneys. He taught me about Tuscan food, which he learned from Pino Luongo. All of them brought something different to the table. In cheffing, it's a family tree—who did you work for and what can you teach me?
In 2005, you headed to the Hamptons. Why did you make the move?
After running Cavo in Astoria, I stopped cooking for a while. I opened Cheetah Club on West 21st Street, where I got into party work. My wife and I decided to head out East and acquire caterer Food & Co. Then we bought Hampton Clambake. The first restaurant we opened here was Madison & Main in Sag Harbor, where Lulu Kitchen is now. After a year, we got an offer we couldn't refuse, and we sold it. Then I became partners with Richard Silver at Andrra, and we turned that into Bay Kitchen Bar.
What was your vision?
We knew we were going to modernize Eastern Shore cuisine—food that's served from Maryland to Maine in crab shacks and in seaside restaurants. For example, a twist on fluke by adding capers, parsley, taragon, chives, and lemon. I wanted to take stuff that people have been eating here forever, like a bowl of mussels, and modernize it into high cuisine.
How do you curate your menu?
Year-round, I'm reading cookbooks, and I eat everywhere I possibly can. I like to see what all the contemporaries and young guys are doing at the new places. I start off knowing which proteins I want to serve. My clients want scallops, fluke, and striped bass. They don't want to eat lesser-quality fish that's gussied up with sauces. From there, it's built around seasonal ingredients and the senses—sweet, sour, salty, crunchy. Then, of course, it's the appearance, which goes back to how you carve the meat, fish, and vegetables. I also take into account color, like adding carrot or corn or avocado to a potato purée.
Do you fish?
I like crabbing and clamming. It's easy to do around here—you just dig it up with your feet. I'm surrounded by a dying culture of real baymen. A lobster boat is docked 10 feet from where I cook, and it comes in with live black sea bass, cod, fluke, conch. It's crazy.
What will you be indulging in this summer?
I always overindulge in the same thing: fried whole belly clams. It's special to this area, and there's a short window to enjoy it!
What're you serving up this summer?
I've started to simplify my presentations with more focus on sourcing fresh ingredients. I'm getting stuff from Sang Lee Farms on the North Fork, and oysters and fish from Multi Aquaculture Systems on Cranberry Hole Road in Amagansett. I have a relationship with a guy who owns a scallop boat, and with Asa Gosman, who brokers a lot of the fish out of Montauk. Because of those relationships, the food is getting better. I'm sourcing better, butchering better. I'm a year better myself. This winter, I was fortunate to spend a month at Eleven Madison Park. Even though I'm 58, in a kitchen full of young guys at the best restaurant in the entire world, every single person had something that they could teach me, from the commis de cuisine to the chef de cuisine. It reinvigorated me on proper hospitalitarian behavior, which is a word I like to use. I also got into Le Bernardin for a couple nights, just to watch what they were doing. Next year I'm lined up to go to Mexico City to work for Enrique Olvera, chef de cuisine for 10 years at Máximo Bistrot in Mexico City. He was chef de cuisine at Cosme in New York. Every year I try to get into a different restaurant and learn something new.
What's one of your favorite food trips?
About three or four years ago I went down to Sylacauga, Alabama, for a month to visit a guy who owns Whisker's Catfish. He taught me how to smoke meat. On my way back I stopped in North Carolina at Wilber's Barbecue, where it's whole hog only. I wanted to learn how to barbecue. I came back with a 500-pound Southern Pride smoker, which we use all the time for catering and for ribs, brisket, and pulled pork.
Cool! So what's on Bay Kitchen Bar's cocktail menu this summer?
The cocktail list was written by my son, Adam. We use a lot of fresh fruits and sours and play on classic cocktails. We have fresh juice—lemon, lime, orange, pineapple, watermelon. That's the backbone of our beverage program. What sells most in the summer is rosé. People also love sauvignon blanc. The great ones come from New Zealand and France, like Sancerre, and locally, from Paumanok.
What's your life like outside the kitchen?
I've been married for 34 years, and I'm going into business with my son, opening a new restaurant, Flagship. My brother, Marc, is our director of special events. Family is very important to me. And I have a couple of dogs that I like to take swimming. I also like Netflix—am I allowed to say that? [Laughs]
Absolutely. Tell us more about Flagship!
I'm always looking for something new, and I needed a place for my son to land and call his own. When a waterfront space in Montauk became available, we couldn't pass it up. What floats around here is what we cook. Flagship is the beginning of our idea of a craft cocktail bar. It has a tropical feeling that's not quite tiki, and the food bends more toward Asian.
What are some of the best cookbooks in your library?
In my house in East Hampton, I have an old antique table that has about 300 cookbooks on it, all the way back to Alfred Portale's Gotham Bar and Grill Cookbook and Frédy Girardet's books. I'm reading The Slanted Door, by Charles Phan, the chef and owner of the Vietnamese restaurant in San Francisco. I've read Daniel Humm and Will Guidara's book Eleven Madison Park four times. I love Sean Brock, who owns Husk in Charleston, South Carolina. He's a big proponent of modern Southern cuisine, and he doesn't serve anything grown above the Mason-Dixon line. I refer to his book all the time. You name it, I'll read it.
So when are you going to write your book?
No one's ever asked me! It wouldn't be just about the food, but about the culture and the people. I have a lot of stories to tell!
MILLER TIME! WITH ADAM MILLER, Mixologist, designer, co-owner, Bay Kitchen Bar and Flagship
Earliest memory in the kitchen
When I was 8, my dad made me his sous chef at the James Beard Foundation dinner.
First time behind the bar
The Catch in Port Jefferson. I hardly knew the difference between vodka and gin.
Signature cocktail
I am a geek for rum, and I love a daiquiri.
Design inspo
I studied fashion and interior design at Pratt. Flagship has a Polynesian tropical aesthetic melded with the industrial vibe of the
fishing dock.
Good spirits
Kick Back (bourbon, applejack, lemon juice, orgeat, bitters), Take Out (riff on the banana daiquiri), and Dance Fight (twist on the caipirinha)
Menu musts
Seared day boat scallops, lobster spring roll, smoked pork ribs
Retirement plan
To own a tiny tiki bar on a small tropical island.
Read the issue HERE.