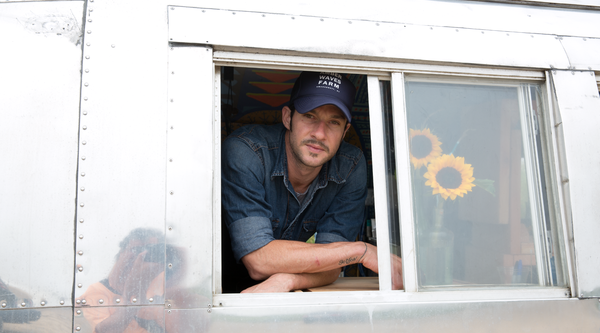 Checking In With Chef Sam Talbot!
|
We caught up with former Top Chef Sam Talbot (remember when he was the chef at Surf Lodge? And Imperial No. 9?) for the full scoop on his beachy (and mobile!) latest venture, Turf. Started by Zachary Lynd two summers ago, the Ditch Plains-situated eatery now sports an interior painted by Lynd's GF, Kelly Framel of The Glamourai, and grub schemed up by Talbot. Hungry yet?

Where are you cooking currently?
Turf, in Montauk. It's a big, sexy, vintage 1967 Airstream that lives on Ditch Plains and serves breakfast, lunch, and dinner.
What are the most popular dishes?
People bug out about our kale dishes. I get text messages all day asking about our kale! The lobster rolls are a big hit too. So are the fish tacos.
Explain your eight-month stint at the Mondrian Soho's Imperial No. 9.
We had a great run, I worked with awesome people, we cooked some killer seafood, and then it was on to the next thing.
Why did you leave your exec chef gig at Surf Lodge last spring?
There were moving parts; ownership changed hands. I wanted something more streamlined and focused.
Why'd you join Turf?
Sometimes, you don't need a huge hotel or party scene. I'm cooking locally, right on the beach, and people get stoked on that. It's so rewarding. Plus, I have the best office on the East Coast!
Where do you recommend buying seafood in the Hamptons?
Just hang out at the fishing docks and see what they pull up. The fishermen are trying to make a buck!
What's a must-eat for an East End first-timer?
A Montauk pearl oyster! The nutrient-dense water makes them amazing. It doesn't get any better.
Any side projects?
I'm writing a book, The Lunch Pail, to educate children and caretakers about nutrition. It's not just a bunch of recipes.
People often dub you a hot chef. Thoughts?
Oh my God, it's horrifying! I hate it! I'm kidding. Who cares? If people said I was ugly, that would be worse.