What did model-turned-actress Charlotte McKinney do in her under-24-hour trip to the Big Apple? She went to a Knicks game, visited SiriusXM Radio, and chatted with your Daily at the GUESS? showroom, to name a few things. From her new GUESS? campaign with Joe Jonas to the secret to her envious beach bod and more, Charlotte didn't leave us guessing—she gave us answers.
When did your relationship with GUESS? begin?
When I was living in Miami and going back and forth to New York. I finally decided to move to LA because it seemed more my vibe. Paul Marciano found pictures of me on the internet and contacted me, and that's how it started! I was 19, and now I'm 23.
Your latest campaign with Joe Jonas—was that the first time you worked together?
It was! I found out that we were doing a music video before we even shot GUESS? I was very excited to meet him—I had heard great things about him and everything went pretty well.
The pictures went viral.
Yes, they did—it was crazy. I think it was really different for him, too. I hadn't seen him in a light like that, but I know he was very excited to be a part of it.
How did your family react when they saw the photos?
They were really excited. My parents have always supported me with GUESS? I remember my first campaign—my dad was freaking out, and was so proud of me. It's so nice to still have that support.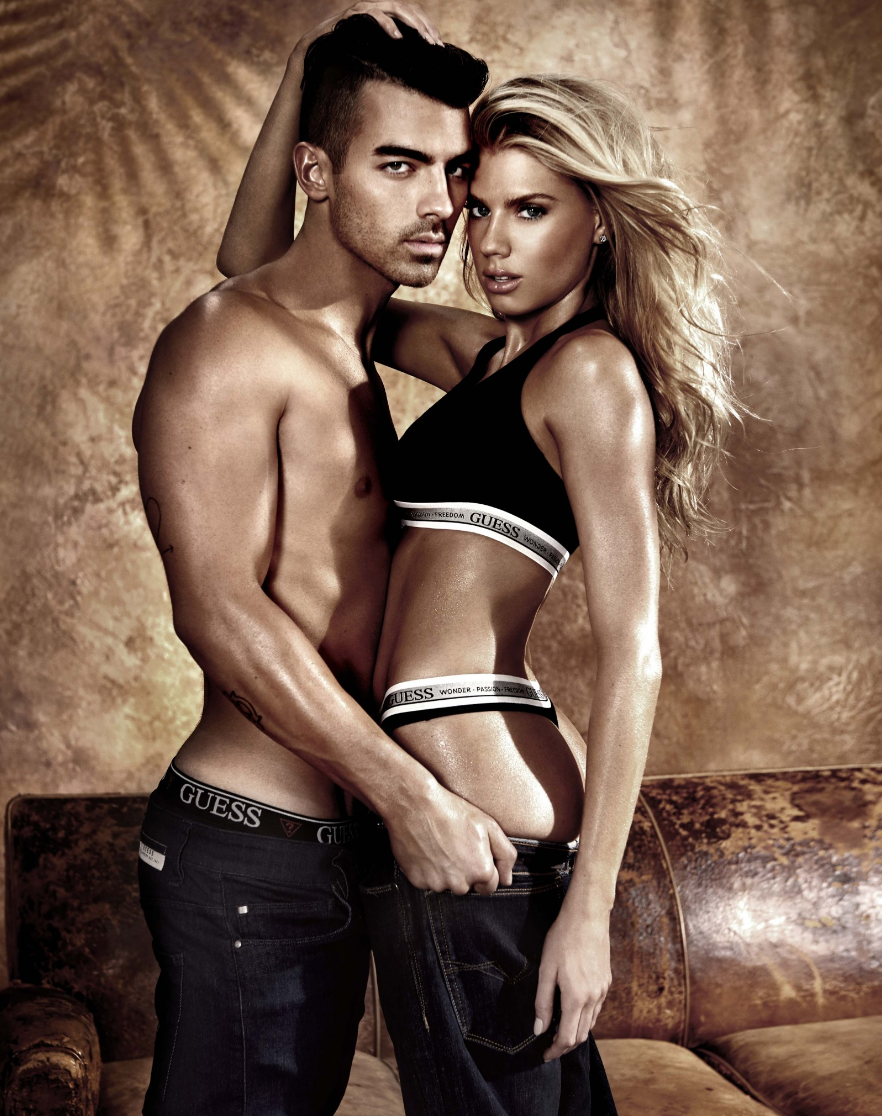 You have a busy acting career these days.
Like seven movies! I'm really excited about that. I told Paul that I don't really model anymore but still really love GUESS? so I'd still do more campaigns for him. I don't even have a modeling agency anymore, but as long as I'm working with GUESS? I'm happy.
Baywatch is coming out in a few months. Who were you most excited to work with?
The Rock. I've always heard such great things about him, so to be on set with him was really awesome. He brought the Make-A-Wish foundation on set, and I've always been involved in children's hospitals. It's nice to see someone who works a full day and still takes time to bring kids to set and all that. I really admire him.
Were you ever a lifeguard growing up?
No, I wasn't. I think I wanted to do junior lifeguards. I lived in Florida but I never had the dedication. When I found out how many hours you had to put in I was just like "Yeah, I'll just keep swimming by myself."
What's the key to achieving your beach body?
I used to crash diet, and if I found out that I had a gig coming up I would getting super into it. Now I'm constantly staying on a plan and I'm doing hot yoga all week, with weights. I also keep a very clean diet—no packaged foods!
Have you seen the original Baywatch?
Of course! I was a huge fan. I loved Pam. My dream growing up was to move to Santa Monica, and now I live there. It's crazy.
Are you still on the the market?
I just said to E! News that I am super single, and I am working on Valentine's Day anyway. Work is my boyfriend right now.
A lot of actors and models are launching their own brands. Is that something that you could see yourself doing?
Yes, totally. I have always talked about that, and once I build a bigger fan base, it would be great to do something. I have been talking to swim lines…it's definitely something I would love to do.