Last night, The CFDA kicked off the second season of New York Fashion Week: Men's via a collaborative event with The Dockers brand for its 30th anniversary. "It's a lot less nerve-racking to kick off this season than last season," Steven Kolb told us, who's been with the CFDA for 10 years. "Luckily, this week I have a Cadillac to take me around, so I don't have to worry about Uber surge charges or finding a taxi! But Men's Fashion Week is so different—it's dudes watching other dudes walk around in clothes, so it's much chiller. Women's will be my 21st season, so at this point, if I don't know how to balance it all, I never will!"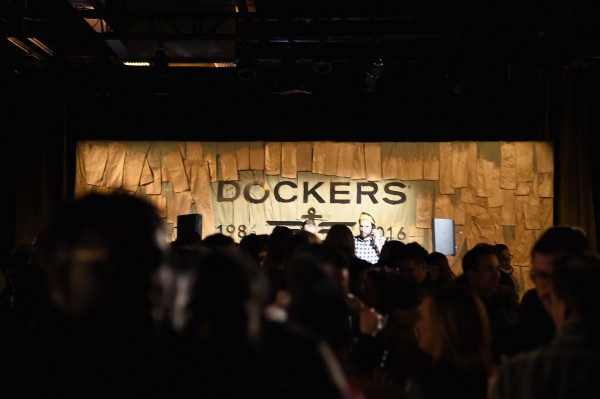 The Chelsea shindig attracted a slew of athletes, which presented the mods with some serious competition for the spotlight, including Matt Harvey of the New York Mets, Giants wide receiver Victor Cruz (who's a #NYFWM ambassador), Eric Decker of the New York Jets, and the Patriots' Julian Edelman. This crew not only scores on the field (and on the looks front), but they've got a knack for fashion, too.
"I've always liked what I've worn. This is my second Fashion Week; I came last year after the Super Bowl. It's always been an interest of mine to see where the trends come from and the people who create it," Edelman said. "You've got to look and play good!" If you ever wondered whether it's more challenging to make it to a football game or to a fashion show… "Definitely to a game, for sure," said Cruz, who's eager to see the shows of his "friends," like Don Elliot, Stance, Public School, and Robert Geller.
Mia Moretti DJ'd the event, which also brought out Johannes Huebl, Mickey Boardman, Phillip Lim, Prabal Gurung, Nicholas Hunt, Decker's wife Jessie James [Decker], and Tyson Beckford, who filled us in on what he's been up to: "I just wrote a movie with some friends, and we're trying to get it out now…and of course I've been working out in the gym, trying to stay stress-free and young. I just got back in mid-January from Jamaica. After Fashion Week, we'll see where I go."