The daughters of some of Hollywood's biggest names took to the catwalk yesterday at the iconic Plaza Hotel in support of man-about-town and Just Drew designer, Andrew Warren. The NYC native was honored at the City of Hope's annual Spirit of Life charity fashion show and luncheon where Warren, along with blogger Danielle Bernstein (WeWoreWhat), were presented with the "Champion of Hope" award. The organization is an independent research and treatment center for cancer, diabetes, and other life-threatening diseases. Warren provided all of the clothes for the fashion show portion of the event (attended by over 400 people, many from the NYC society circuit) from his newest range of Just Drew designs. "The City of Hope brought me in for the Champion of Hope award and to do the fashion show because their L.A. event is so millennial based," Warren told The Daily. "They use Selena Gomez and all these great people. They wanted me to make this event [feel] more millennial and bring in the next generation for future years. I think I was a good person to do that because I got all of these girls to be here and I think the City of Hope is really happy about it."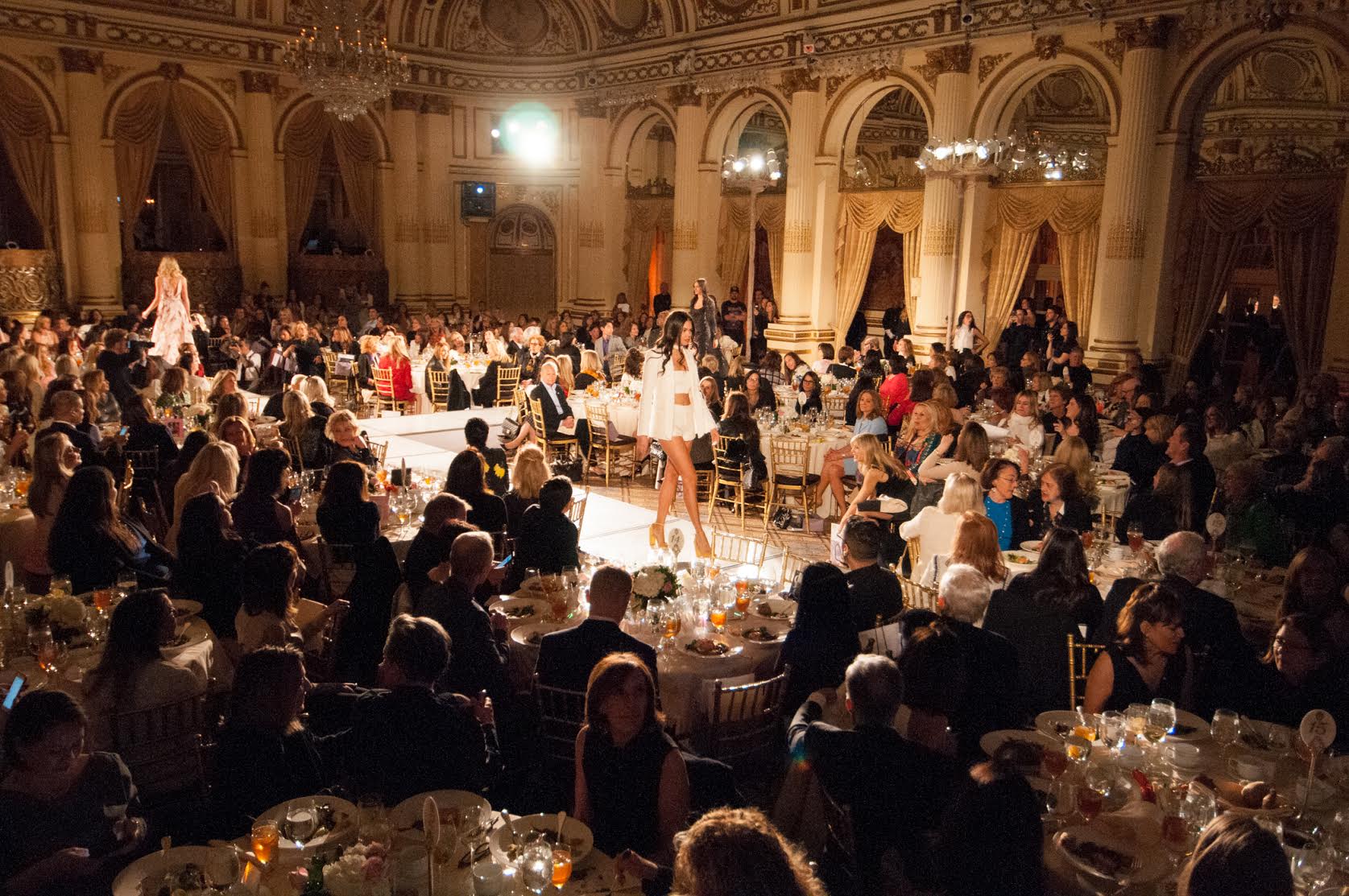 The list of girls Warren wrangled is long, and impressive: Corinne Foxx (daughter of Jamie Foxx: 110K Instagram followers), Sophie Simmons (daughter of Gene Simmons: 291K Instagram followers), Daisy Lowe (Gavin Rossdale's daughter: 356K Instagram followers), Olivia Washington (Denzel Washington's daughter), Hayley Hasselhoff (yep, the daughter of the David Hasselhoff: 37.4K Instagram followers), actress Danielle Campbell (2.4M Instagram followers), Emma Ferrer (granddaughter of Audrey Hepburn), Alessandra Garcia (daughter of Andy Garcia, who just shot her first D&G campaign) and social media star Vale Genta (1M Instagram followers), among others.
"I actually just met Andrew—through City of Hope—but it feels like I've known him forever," Hasselhoff told us. "We have a lot of the same friends…you kind of know everyone when you're from L.A. or  New York," Hasselhoff said on meeting Warren. She has also tapped into design with a plus-size clothing line. "I have my second capsule collection for LV which is coming out. It's a plus size collection that goes from size 14 to 26. It just released on Nordstrom. It's very romantic and relaxed-feeling." As for her thoughts on the upcoming Baywatch movie? "I'm so excited! I grew up on the set of Baywatch, so to see that it's being revamped as an adult is so exciting. It's weird though because The Rock is playing Rich Buchanan! There's been so much talk, obviously, in our house about this movie coming out for so long, and I'm just so proud of my dad and what he's accomplished through this movie." Hasselhoff has tapped into acting herself—she played Amber in the ABC Family original series Huge. She now lives between Los Angeles and London.
As for how Denzel's daughter Olivia knows Andrew? "Through EJ Johnson a couple of years ago. EJ and I grew up together in L.A.," the 26-year-old told us on the former Rich Kids of Beverly Hills star. "I'm doing a little bit of everything right now—I live in New York so I do theater, film, TV…all of the above." The event marked Washington's first runway show. "I'm nervous! But I know some of these girls because I grew up with them. Alessandra [Garcia] and I were roommates before—we grew up together in L.A. so our families have known each other for a really long time." As for her summer plans? "I have to see what the family is doing! We're all older now, so it's getting difficult to be in one place. I'll probably go out to LA for a bit and see what everyone's up to." Washington has three siblings: John David Washington, Katia Washington, and Malcolm Washington.
Andrew's pal Tiffany Trump also came out for Warren's big day. She was accompanied by her mom, Marla Maples. It was announced earlier in the day that she would be attending Georgetown University's law school in the fall. Other honorees at this years event included Tony Award-winning star Kelli O'Hara, Iris Dankner, and Lisa Kaye Fuld.
NEW YORK, NY – MAY 08: Andrew Warren and Tiffany Trump attend the 2017 Spirit Of Life Award Luncheon & Fashion Show at The Plaza Hotel on May 8, 2017 in New York City. (Photo by Theo Wargo/Getty Images for Just Drew Clothing)
NEW YORK, NY – MAY 08: Marla Maples attends the 2017 Spirit Of Life Award Luncheon & Fashion Show at The Plaza Hotel on May 8, 2017 in New York City. (Photo by Theo Wargo/Getty Images for Just Drew Clothing)
Photography credits: Getty Images, Teri Bloom, and Steve Prue