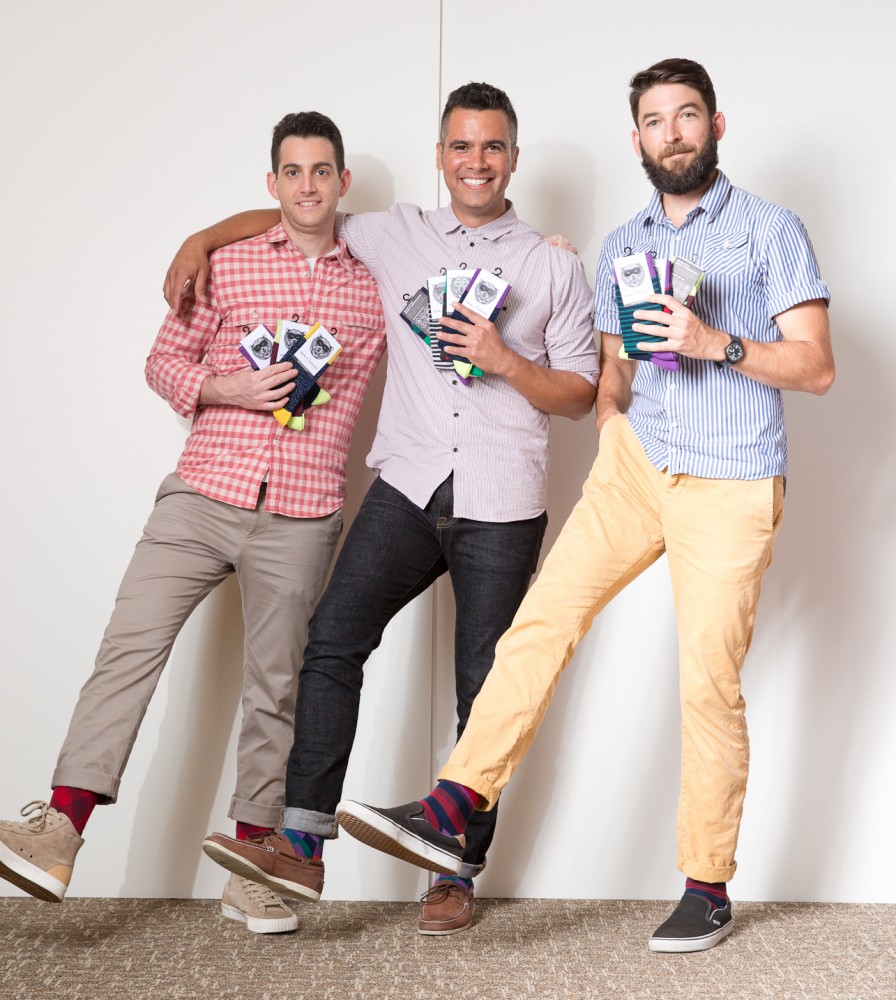 When an email arrived asking if we wanted to learn more about Cash Warren's latest project, we were highly intrigued. Your Daily then got an intensive education in all things sock-related. Warren brought along Alan Stuart and David Ehrenberg, the trio behind sock label Pair of Thieves. Available in an array of funky colors and sweet prints, the men's socks are sold exclusively at Target. Turns out, this pieds-outfitting crew has a healthy sense of humor to boot…
BY DENA SILVER
So, socks! How did the idea for Pair of Thieves arise?
Cash Warren: Ever since we were young, we've been interested in cool socks. About five years ago, Alan and I got together and decided we really wanted to create our own line. At the time, there wasn't an abundance of companies doing something in this space. It wasn't until we partnered up with David about two and a half years ago that we actually created the company and developed the product.
Alan Stuart: A big part came from frustration with our current socks. At one point we brought our entire sock drawer to our office, had a white board filled with ideas and were like "This one's great looking but it got all baggy after two washes, which we call 'drunk socks.' This one's too short. This one's too tight." And so we tried to mix everything together that we liked and make a great product.
What's your sock signature?
David Ehrenberg: We have what we call sneaky performance. So style comes first, but each sock has a mesh upper, arch support, a performance blend of cotton. I think that's our secret sauce.
What does Pair of Thieves mean?
Cash: It's in reference to the one sock that always goes missing. Who steals that sock?
A great question! Any theories on where they go?
David: There's a secret planet. A secret planet full of socks.
Alan: That makes sense.
Cash: I think one sock just dissolves. They're so shitty most of the time that one just goes away. Whereas our socks stay together forever. They never go missing.
Have you been wearing shorter pants since you launched the collection?
David: Yes, as you can tell.
Alan: And we walk around in a lunge all the time.
What's the process for naming the socks?
Alan: I name all the socks. It takes about ten seconds per sock. It's usually just the first thing that comes to mind, as long as it's not offensive.
We hear there's a Pair of Thieves drone. Please explain!
Cash: I got a drone about a year ago, and it's the best toy imaginable. We immediately began brainstorming how to do something with Pair of Thieves and the drone. So, Alan built a box and that has a remote control bomb hatch. Now we can sock bomb!
Alan: It's still in testing.  But our neighbors have already gotten some free socks in their backyards. Not our choosing, but miscalculation with the parachute size.
Does your icon, the bear, have a name?
Alan: No! But we've got to name him now. We gotta figure out a name. We'll get back to you on that.