We've been hearing major buzz about "indie masterpiece" Call Me by Your Name since it premiered at Sundance earlier this year and became the darling of the festival. New Yorkers finally got a chance to see what all the hype is about last night when The Cinema Society and Calvin Klein hosted a special screening at MoMA, and it's as good as it gets. The Sony Pictures Classics film is based on the acclaimed André Aciman novel of the same title (guests remarked last night that the film is even better than the book), and tells the story of the passionate romance between Elio, a 17-year-old living in Northern Italy in the 1980s, and Oliver, a 24-year-old academic who has come to Elio's villa to study under his professor father.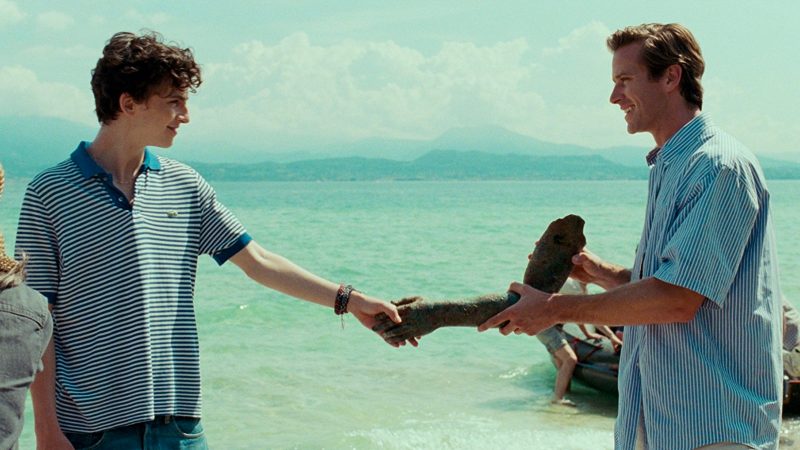 Armie Hammer, who hasn't had much to do since his breakout role in The Social Network, has the role of his career as Oliver who falls for the precocious Elio, played to perfection by name to know Timothée Chalamet. "It's just a love story, and it's really humanizing," Hammer recently told The New York Times. "No one gets beat up, no one gets sick, no one has to pay for being gay."
The stars were in attendance last night as well as director Luca Guadagnino who introduced the film to guests such as Edward Norton, Andy Cohen, Grace Coddington, Erich Bergen (Madam Secretary), Jonathan Groff, Hamish Bowles, Stefano Tonchi, Derek Blasberg, Sally Singer, Tavi Gevinson, Jamee Gregory, Ivan Bart, Chris Benz, Daniel Benedict, Alex Lundqvist, Timo Weiland, and Andrew Saffir. After the screening the crowd carried on to party at the spectacular Bar SixtyFive at Rockefeller Center. Call Me by Your Name opens in theaters on November 24th.  You'll never look at peaches the same way again.