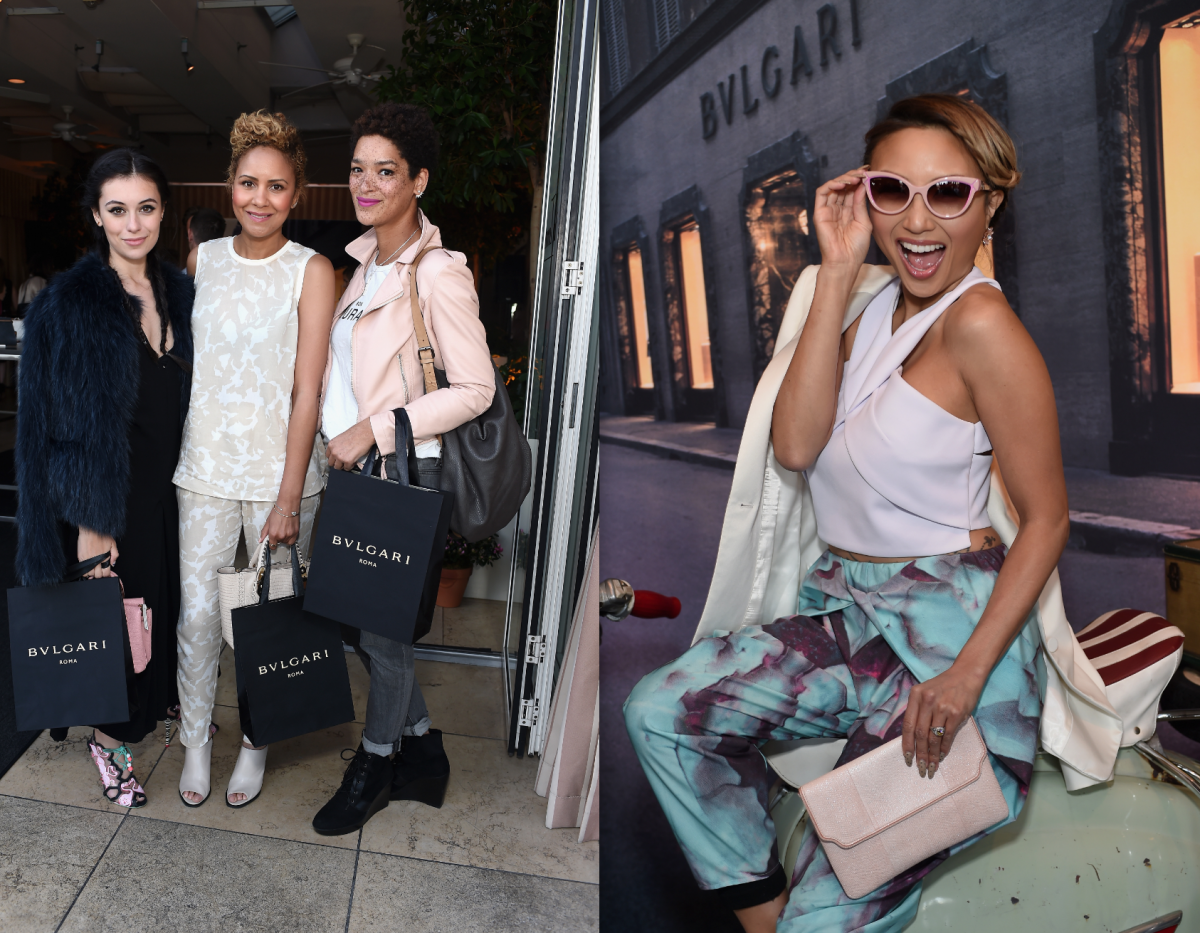 Bulgari brought a taste of la dolce vita to West Hollywood's Sunset Towers Hotel when the Italian luxury label hosted their "From Rome with Love" event on Wednesday afternoon.
Katheryn Winnick and Garcelle Beauvais were among those who behaved like chic kids in a candy store – unsure of where to first look. Everywhere one turned were bright purses, silk scarves, and bejeweled sunglasses.
Each fine jewelry inspired accessory featured precious metals and brilliant gemstones. While Bulgari's Diva, Serpenti, and MVSA eyewear collections were all on display, the event focused on the brand's La Gemme collection which recently introduced five new styles each with nods to their infamous Serpenti motif. One design includes modern lines and a retro vibe in yellow, pink, or white gold metal with onyx, red agate, or amethyst detail. The second design features titanium with diamonds and 18k pink or yellow gold.
"I'll wear these everywhere—from Puerto Rico where I'm shooting a movie this summer to picking up my kids to an early Sunday date," said Beauvais, as she tried a pair of pink cat-eye sunnies on for size. "Sunglasses and jewelry go hand in hand because they set the mood. I like classic looks, but for spring and summer I like to experiment with color. It's fun to switch it up." The actress, clad in a white fringed dress from Nasty Gal, posed on the party's Vespa before heading out early for an event she was co-hosting with Max Mara for the Step Up Woman's Network. "This was perfect! I don't have my kids. It's all on this side of the hill. It all worked out!"
Elsewhere, Winnick reminisced. "I got my first pair of glasses from Bulgari during the Rome Film Festival. I still have them. They're one of my favorite pairs," she said, as she sipped a cocktail. The Vikings actress said she planned to wear her latest pair this summer in Dublin, Ireland where she shoots her History Channel series. "I'm about to head there for season 4 in a couple days. It's going to be a good year. The good thing about Ireland is you have full access to all of Europe. You can jump on a plane and be in Paris in a couple hours. Barcelona is an hour and a half away. You can travel Europe quickly and come back home and work the next day."
Meanwhile, her Vikings co-star Alexander Ludwig was one of the few men in attendance at the afternoon affair. "I'm one of Bulgari's ambassadors. I heard they were having an event and I wanted to come support the family," he said while hanging poolside with a friend. "They're a really classic brand and I also really like their charitable work. We did a thing for Save the Children, which is this foundation they have."
Cara Santana, Cameron Silver, Jeannie Mai, and Christa B. Allen were also among those who selected their favorite style from the sunglass bar. While the group oogled the goods, The Vintage DJ spun classics like Elvis Presley's "Got a Lot o' Living to Do" and Nancy Sinatra's "These Boots Are Made for Walkin'." Champagne and cranberry martinis were served while passed hors d'oeuvres included fig with mascarpone, tuna tartar, lobster canapés, and mushroom risotto. Pint sized cupcakes provided a sweet finish. BY LINDZI SCHARF