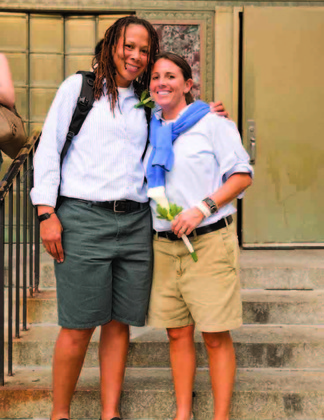 Brides On The Street
For the first issue of The Daily Brides we headed over to City Hall to find out which couples were tying the knot. We ran into Julie Padgett, 33, United States Coast Guard and Ella Williams, 38, Social Worker and they filled us in on their special day.
How did you meet?
Julie: Playing women's pro football. Ella was quarterback and I was wide receiver.
Did you coordinate your outfits today?
Julie: Kind of. We both decided to wear blue!

Do you know why you wear the ring on the fourth finger of the left hand?
Julie: Because it's closest to your heart.

Any fun celebrations planned?
Julie: We might go to a play or something. Honestly, this was more of a paperwork trip!
The Daily Front Row
Seating you front row, taking you backstage & catapulting you into the world of fashion. Stalk us on twitter @DailyFrontRow, follow us at FashionWeekDaily.com and always be seated front row.