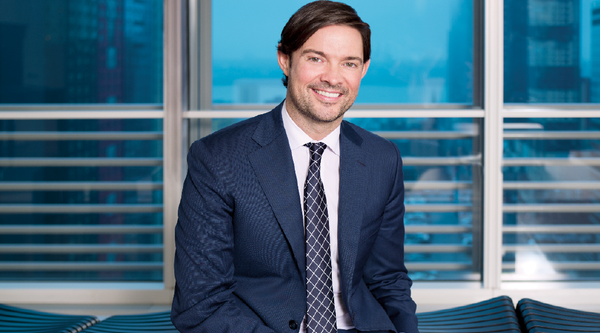 Brendan Monaghan, GQ to a T
|
(NEW YORK) After 13 years at Condé, GQ associate publisher Brendan Monaghan heard the Gray Lady's siren call in October and joined Team Needleman in the 1 Percent trenches. As publisher of T and VP of luxury advertising for The Times overall, he's fighting for shrinking ad dollars in the fiercest market in decades. So far, so good.
BY ALEXANDRA ILYASHOV
How did you end up at the Times?
I was actually recruited. I wasn't looking for a new job. I'd been at Condé for 13 years: I was at GQ for 11 years total, and spent two years at Vogue. I honestly only would've left for something like The New York Times. I had a great job, a great boss, and I loved the company. But, it's The New York Times. There wasn't much to think about.
What was the recruitment process like?
I had a lot of interviews, and it took seven or eight weeks. The more I interviewed for the job, the more I wanted it. I was really excited to work with Meredith Levien from Forbes, who's now the EVP of global advertising at the Times. She has such a stellar reputation, she's super smart, and she's been at the forefront on the digital side.
How were your first few days on the job?
I had to learn the corporate culture. The business is big, and there are advertisers who run 365 days a year. I'm used to a monthly close! Thanksgiving was during one of my first weeks at the new job, and at GQ that time would've been relatively dead at the office. Black Friday is a huge, huge day for the Times. But I'm starting to understand important advertising days, not just months, like March and September were at GQ. Now, I'm thinking Memorial Day won't be the best time for a vacation…
What kinds of advertisers are new to your game?
Chanel was not an account I was exposed to a lot at GQ, except on the fragrance side. They're one of the Times' largest advertisers. The magazine brought in 146 new advertisers last year, and ads have been up 11 percent since Deborah [Needleman] arrived.
How does T really differ from WSJ.?
From an audience vantage point, WSJ.'s audience is 70 percent male, and we're 50 percent male and 50 percent female. T has a cult following; it's celebrating its 10-year anniversary this year. I think people are more passionate about T. The New York Times runs this city.
Is there a different kind of affluent reader who'd pick up T over WSJ.?
I wouldn't say T targets the super wealthy. Rather, T is smart and aspirational. Inherently, the Wall Street Journal is a business newspaper, and [WSJ.] is a newish business model for them. We'll see how that goes. T is a natural fit for the Times, since the paper's been reporting on culture, dining, travel, and style for over 120 years.
What's your favorite thing about Deborah?
She's the smartest girl in every room, but she's also the coolest. She's super dedicated and passionate. We email each other all day long. Just a month into working together, she already felt like family. I can't wait to sit on a flight with her for eight hours.
Really? Do you think she's a genius?
I do. Sitting in meetings with her, the amount of information she has in her brain and can put on paper every month is just amazing to me. She started Domino while I was at Condé Nast, and I always had a lot of respect for her.
Are you staffing up?
We're investing heavily in talent right now. We hired Mark Lloyd to handle American fashion accounts. He worked with me at GQ, left for Modern Luxury, and now we're back together. I also hired Peter St. John to handle our luxury business. He also came from GQ.
What are you cooking up for T's 10-year anniversary?
That issue will be out October 19, and I see a series of events leading up to a larger event for the anniversary.
Is the Times vibe different from Condé?
It's oddly similar. Everybody walks into The New York Times every morning so proud, knowing they're working for the best brand. You're surrounded by the smartest people in the world in the elevator each day. People felt the same way at Condé Nast.
How do the Times and Condé cafs compare?
They're both run by Restaurant Associates, and equally beautiful, but The Times needs a better salad bar.
What's missing?
Kale! I want it to be just like Chop't!
Did you feel compelled to leave Condé to make publisher?
I didn't have to leave to do something bigger; I was promoted eight times in 11 years while I was at Condé Nast. I was associate publisher for two years at GQ, which is neither short nor long. This felt like the right and only move for me.
How GQ are you?
If there was ever a book written about GQ, I would definitely be a main character. I think I'm part of the magazine's DNA. All of my old Twitter and Instagram handles had GQ in them.
How was your Vogue stint?
I had this itch to move to L.A., and I scratched it at Vogue. I always looked at going to L.A. like it was camp. I'd never lived in a warm climate before, and I'd been working at GQ for four or five years at that point, and my mentor was Tom Florio. He moved from GQ to Vogue and took me with him.
Did you like the Angeleno lifestyle?
You're in your car a lot. In New York, I can have 10 meetings in a day, just getting in a taxi and going. In L.A., you might have two or three meetings, because you're dependent on traffic and don't want to be two hours late. It's a different routine!
Do you have any fashion pals?
My closest designer friend is Brian Atwood. I met him in Milan when he was the creative director at Bally, and he's engaged to my best friend Jake [Deutsch], who's an ER doctor. I'll be Jake's best man at their wedding. Michael [Bastian] is a really good friend, too.
Word is, you're a descendant of President Coolidge.
[Laughs] I've been asked about that more in the past couple of years, probably because a book on [Calvin Coolidge] came out. I don't have any hand-me-down stories about him, unfortunately. My mom does have his Bible. Coolidge is my middle name, and it's my mom's last name. I'm actually the last Coolidge! My friends whip that out as cocktail banter more than I do.