Finding the idyllic skincare brand for you and your unique skin is no small feat. There are countless factors to consider, from the ingredients and price of the product to your own skin type and even skin tone. The seemingly infinite brands and their offerings, however, make anyone's selection process difficult and often downright infuriating—and that includes men.
Yes, it's not just women who need to be taking their skincare routine and their skin's health seriously; men should be using proper skincare too! Gone are the days of complete reliance on olfaction-dominating Axe or "good ol'" Old Spice. These guys (and countless other generic brands like them) simply no longer cut it. That is because commercial brands such as these are so consistently pumped with damaging, unhealthy, and downright dangerous synthetic components. That's right—those plastic bottles and jars on your shower shelf could potentially be hurting you. That is precisely what we aim to tackle today, providing you, gentlemen, with a review of a skincare product you can finally see results with and feel good using, all without being a detriment to your health! And that brand is Blu Atlas. In this Blu Atlas review, we will be covering everything you need to know about this impressive skincare brand for men and why you'll be wanting to get some of your very own starting today!
What Is Blu Atlas?
Blu Atlas is a New-York-based skincare brand that meticulously formulates skin care products and other grooming products for men. Their mantra is "less is more," which is evident in their simplistic yet modern branding and the ingredients within each product. Blu Atlas's main mission is simple: to provide men with all-natural cleansers, moisturizers, shampoos, masks, and beyond to keep them healthy, feel their best, and be exponentially more confident in their appearance.
And who in their right mind wouldn't want that?
Blu Atlas is the answer to proper skin care and even hair care for men because they take quality control seriously in every step in the process, from formulation to sale and beyond. Each and every one of their offerings is sustainable, 100% vegan, and only contains all-natural ingredients.
What Ingredients Does Blu Atlas Use?
Blu Atlas makes it a top priority to connect their customers with skincare and hair care products they can actually depend on, which starts with the ingredients within them. All-natural ingredients. These are the types of ingredients that you want in your gels, creams, and other items you put on your largest organ (your skin!) and in your hair. Just a handful or so of fine examples of the ingredients that Blu Atlas uses are:
● Green Tea Extract: This organic extract calms redness, soothes puffiness, lessens acne, and protects your skin from pesky free radicals (dirt, dust, pollution, etc.) and sun damage.
● Coffea Canephora: the caffeine from this particular species of coffee bean can provide your skin with miraculous benefits, like making it appear more youthful, firmer, and hydrated.
● Shea Butter Glycerides: an emollient from the Shea tree, it can lead to higher skin cell regeneration (key for healing scars and other skin damage), can fight signs of aging, provide ample hydration and moisture retention, and leave skin feeling soft and supple.
● Rosa Damascena (Rose) Flower Water: commonly referred to as "rose water," this ingredient can provide an abundance of antimicrobial and anti-inflammatory properties, which all can assist in shrinking pores, reducing the signs of aging (even stubborn fine lines), and making skin smooth.
● Aloe Barbadensis Leaf: Aloe Barbadensis (a fancier way of saying "aloe vera") is one of the best natural ingredients for soothing skin, lessening redness, reducing puffiness, moisturizing skin, and providing it with key anti-inflammatory properties.
● Vitamin C: This antioxidant is a major catalyst for collagen production, which leads to more youthful skin, diminished fine lines, and glowing skin. It also brightens skin, lightens the appearance of blemishes and scars, and even protects from sun, pollution, and free-radical damage.
● Kaolin Clay: When applied to your skin through means of a skin mask, kaolin clay is an excellent pore-cleanser, as it is a magnet for overproduced sebum (the key material in your skin that coats and protects it but also the main culprit of clogged pores).
What Ingredients Doesn't Blu Atlas Use and Why Should You Care?
While it is indeed imperative for you to understand the ingredients within the products from Blu Atlas, it's equally as important for you to recognize what isn't in them. With that, let's talk about harmful chemicals and other ingredients in "typical" skincare brands, and you'll see what we mean. Did you know that the average human is exposed to over 120 chemicals per day from most popular skincare products alone? Yikes. Fortunately, Blu Atlas is an above average brand. Blu Atlas has purposefully excluded several of the most common skincare additives found in other brands, such as phthalates, parabens, sulfates, and aluminum.
Phthalates
What can phthalates do to you that's potentially dangerous? Well, these materials are also found in plastics, and when consumed by humans, they can lead to asthma, increased risk of heart disease, increased toxicity in reproductive organs, and disruption of the endocrine system. The dangers this one ingredient can lead to are well known, which is apparent in the fact that they are banned completely as beauty product ingredients across the board by the European Union. Yet, they still find their way into many popular American skincare and haircare products (except Blu Atlas, of course).
Parabens
These preservatives can cause your skin a whole load of issues: rashes, allergic reactions, inflammation (namely contact dermatitis), and blisters. They can even lead to infertility and cancer formations, as they can mimic estrogen levels. On top of that, they're bad for the environment.
Sulfates
Sulfates are chemicals that are typically found in cleansing agents. While they are added to cleansing skin and hair products for humans, they are also used in cleansing products for non-living items, like common household cleaners. What's the result of using these on people you ask? Overdried skin, faded chemically-treated hair, and irritation to the skin, lungs, and eyes. That's a hard pass, in our opinion.
Aluminum
Aluminum has gotten a lot of publicity in recent years, especially when it's been used in deodorant. And, as it turns out, not all publicity is good publicity after all. This is because aluminum is the key ingredient in deodorants and antiperspirants that blocks pores. Aluminum disallows this natural human body process to rid it of toxins. And, what's worse, it has been found to be connected to Alzheimer's Disease and breast cancer.
Before you dismiss the breast cancer portion, guys, think again. Yes, less than 1% of breast cancer occurs in men, but that is still a valid concern, as well over 2,000 men are expected to have received the diagnosis in 2021. While the numbers may not appear too gasp-worthy, why even bother risking it?
What Makes Blu Atlas Stand Out Above Everyone Else?
It seems pretty bleak out there in the skincare world now, doesn't it? Well, that's what Blu Atlas aims to change. Blu Atlas is what all skincare brands should aim to be and more. Still not quite sold? Here are some seriously enticing reasons why Blu Atlas is worthy of your time, consideration, and business.
All-Natural Ingredients
Remember this point from earlier? All. Natural. Ingredients. Things from Mother Nature that you're able to put on your body and reap the astounding natural, nutritious benefits. Materials that were made specifically for the human body by the beautiful Earth we inhabit.
Sustainable
Speaking of the Earth, the products that Blu Atlas produces are sustainable too. What exactly does this mean? Sustainability here means that these products and their packaging protects the Earth from further harm. Sustainable products, like those created by Blu Atlas, simply improve human life without taking a toll on Mother Nature. This is quite the key factor, as not all grooming and other personal care products make even a slight effort to help the Earth. But why wouldn't they? After all, there is no Planet B.
Vegan
Vegan grooming products are key to optimal skin, hair, and overall bodily health. These lack animal products and animal by-products, as you might have already gathered, but they also are deficient in various harmful additives. Because of that, these products have far more room for the "good stuff," like the active ingredients your body wants and needs. Plus, these products can be far easier on the skin due to their careful formulations and are less likely to cause issues for those with sensitive skin in particular.
Dermatologically Tested for Safety and Efficacy
If you won't take our word for it, we know who you are far more likely to listen to: dermatologists. Blu Atlas's products have all been dermatologically tested for safety and efficacy. That's right— we mean what we are saying, and Blu Atlas has the science to back it all up.
Customer Service
Things happen. So the last thing you want when issues do arise is to not be able to contact a dedicated (and real) customer service team member to help you rectify the situation. Fortunately, that wouldn't happen with Blu Atlas. They are fast to respond and even faster to make sure that you are happy with the outcome of the rectification. And if you simply want to return an item you purchased with them and walk off into the sunset, you can do that, too. They offer a 100% satisfaction guarantee or your money back, and every last cent of what you paid at that. All you'll need to do is return the product, even if it's half-empty.
The Price-to-Quality Ratio
The cost of purchasing any new product, whether it be a shampoo or even a brand new car, needs to be carefully considered. Granted, these products aren't going to cost as low as something at a dollar store, but their prices are so impressive that you won't mind shelling a bit more for them. And, no, this isn't so much a "you get what you paid for" scenario. While Blu Atlas might be a smidge more in price than what you would pay at said a commercial pharmacy, it will absolutely not break the bank because their products are quite affordable. Let's look at a few examples to give you a better idea of what we mean. One of their best-selling products, which is the Volcanic Ash Face Cleanser, will run you $20 (each product is 2 ounces). If you choose their subscribe-and-save option, you could be spending just $16 per cleanser. Their aftershave comes in a two-ounce jar which will cost you $24 for a one-time purchase and $19.20 if you opt for the subscribe-and-save option. The Blu Atlas shampoo comes in an 8-ounce bottle and will cost you $22 for a one-time purchase while, if you choose to subscribe, will cost you $17.60 per bottle. Bottom line: their price-to-quality ratio is truly second to none.
Sleek and Modern Design
Many of you who are interested in these products may not be interested in flaunting your products around when you take them out with you. You most likely want products that aren't overbearingly dainty, flaunty, or ostentatious. You want something that isn't an eyesore on your nightstand. Fortunately, Blu Atlas thought of everything, including their products' designs and overall appearance. Every one of their products affords you with outstanding products in minimalist packaging.
Inspiration for Upping Your Skincare Routine
When it comes to crafting your own skincare routine, it can no doubt be difficult and involve a lot of trial and error. Fortunately, this is an honest Blu Atlas review just for you, so we can greatly assist you in learning the products and implementing them in the best way possible for you and your unique skin.
We've crafted a classic skincare routine in sequential order to best help you and your skin!
1. Volcanic Ash Face Cleanser
The first most important element of any successful skincare routine is an effective cleanser. The Volcanic Ash Face Cleanser from Blu Atlas is just that and more. Fortified with volcanic ash to deeply purify pores and absorb excess oil and lactobacillus ferment filtrate to soothe and strengthen skin, it's a cleanser you look forward to washing your face with twice per day (morning and night).
2. Vitamin C Serum
Serums are the most active, ingredient-dense product you can ask for. The high concentration of ideal materials in the Vitamin C Serum from Blu Atlas is truly out of this world. Pumped with skin-enhancing ingredients like mulberry root (creating an overall ubiquitous skin tone), aloe barbadensis leaf (moisturizing and soothing), and ascorbic acid (detoxifying and increasing collagen formation), your skin will feel so refreshed, it will make you let out a refreshing "ahhh."
3. Eye Stick
Keep in mind that the most delicate skin found on the body is under your eyes! That is why this area deserves its very own product. Simply rub on Blu Atlas's Eye Stick and rid yourself of those dark and brooding undereye circles and the puffiness that accompanies them.
4. Face Moisturizer
After all of that hubbub, it's time to wind down your skincare routine with a soothing and skin-drenching face moisturizer. The Face Moisturizer from Blu Atlas hones dulled and parched skin by supplying it with the TLC it's been begging for. With the help of vitamin C, seaweed extract, and mango seed butter, you can apply this moisturizer then walk away from your skincare products feeling completely and utterly rejuvenated.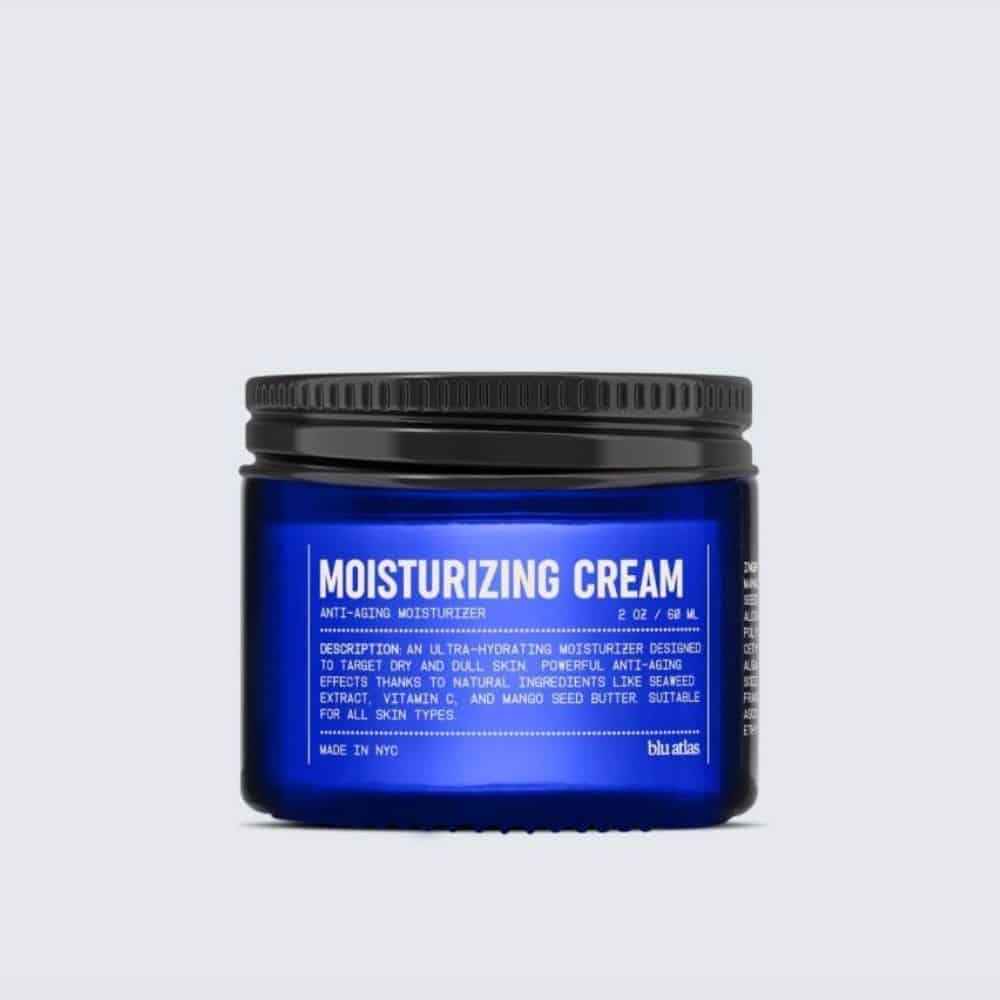 5. Face Mask
We would be remiss to talk about skincare routines and completely neglect to mention the remarkable efficacy of face masks. This face mask will effectively lift impurities from your pores similar to a magnet using kaolin clay, goji berry extract, and algae extract (nannochloropsis oculata extract). Once you rinse it off, you can continue on with your serum, eye stick, and face moisturizer. Apply Blu Atlas' Face Mask, let it sit for 10-20 minutes, then rinse with warm water following your cleanser. Face masks don't need to be used every day, but it has been recommended that you use them one or two times per week!
The Time to Upgrade Your Grooming Game Is Now
Blu Atlas is a true trendsetter in the men's skincare and grooming industry. We hope that this honest Blu Atlas review helped clarify what this outstanding brand can provide you. Be sure to check out all their offerings today and find the best options for vastly improving your skin, hair, and overall health!
Presented by: Grooming Playbook