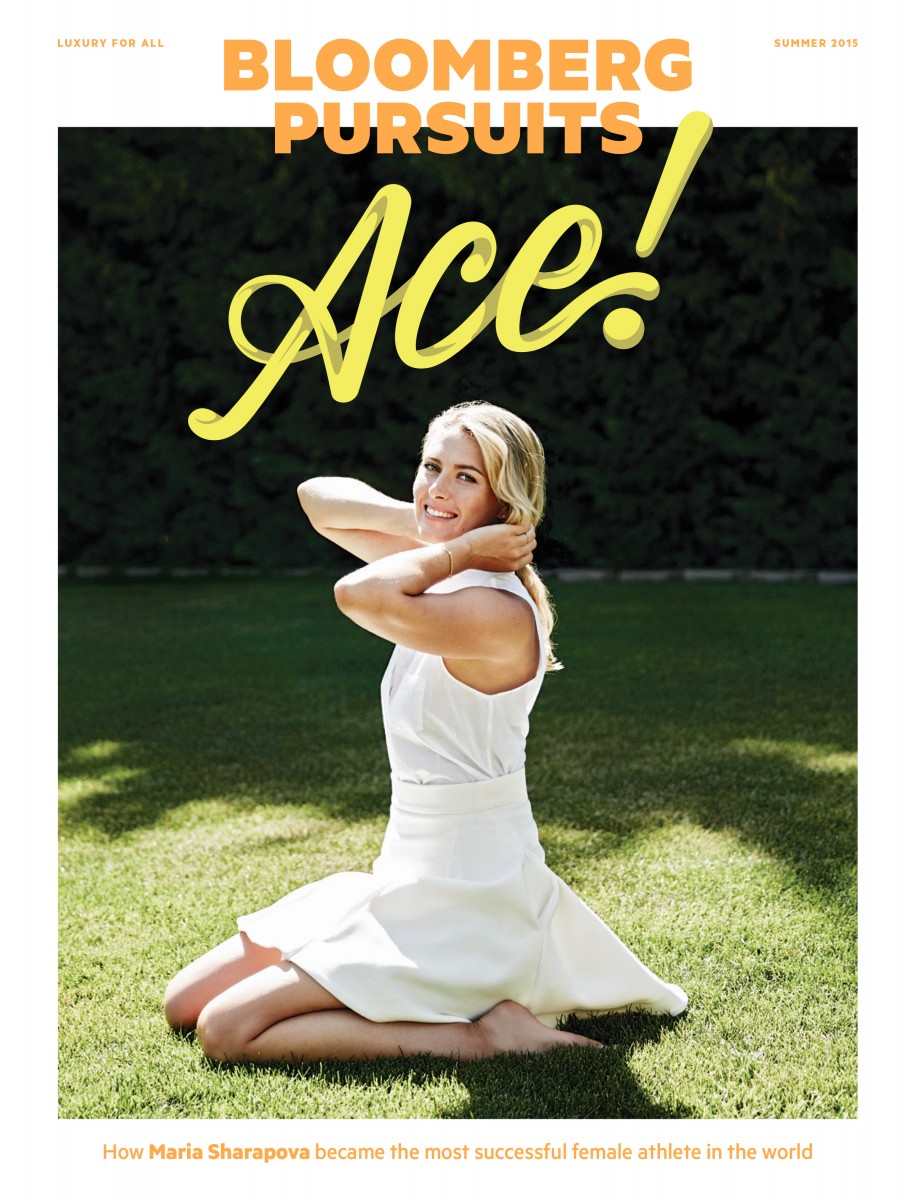 Bloomberg will be relaunching Bloomberg Pursuits this coming Thursday with Maria Sharapova taking the cover in a summery white ensemble. The cover boasts a slightly vintage vibe and bold, colorful typeface. The new version of Bloomberg Pursuits is being helmed by Emma Rosenblum with publisher Emma Winchurch-Beale and Bloomberg's chief content officer, Josh Tyrangiel. Rosenblum succeeded Ted Moncrieff in January; she was promoted from her former title of editor of Bloomberg Businessweek's Etc. section.
"We're so excited to have Maria Sharapova on the cover of the summer relaunch issue, and profiled inside as part of our new feature well," Rosenblum told The Daily.  "The story looks at her outstanding tennis career—she's ranked #2 in the world—as well as her success with branding and luxury endorsements. She's the highest paid female athlete in the world. Plus, she's gorgeous, and looks amazing on the cover and in the photos inside." Bloomberg Pursuit's demographic is 63 percent male and 37 percent female with an average household income of $575,000 and a median age range of 44.
The issue will be published quarterly, with spring, summer, fall, and holiday issues, and a distribution of 375,000 copies to subscribers of the Bloomberg Professional service, aka "the terminal". The Bloomberg Pursuits+ app will download automatically, with Bloomberg Markets+ app subscriptions. There will also be a newly-revamped section for Bloomberg Pursuits on Bloomberg.com. Advertisers for the Summer 2015 issue include IWC, Vacheron Constantin, Sandals resorts, Dolder Grand, John Ker Tours, Greece Tourism, Alfa Romeo, and Samsung.
Other names on the masthead include creative director Robert Vargas, photo director Clinton Cargill, art director Benjamin Bours, managing editor Kristin Powers, and deputy editor Maura Kutner Walters. So, what can you expect to read and see in the first issue? According to Rosenblum's editor's letter, the magazine will be broken up into three sections. First up is Seek, which will feature a mix of new travel destinations, restaurants, and unique experiences. The Spend section will feature 10 must-have items for the season, like a rare Mercedes-Maybach or stylish new polo shirt. Finally, the features sections will include stories like a piece on the vegetable gardens of Paris from New York's Adam Platt to the pumas of Patagonia by Sarah Hepola, and the cover story on Sharapova by Ashlee Vance. As Rosenblum puts it, Bloomberg Pursuits will be about "great new ideas about where to go, what to eat, what to wear, and how to spend the most valuable commodity of all: your time."