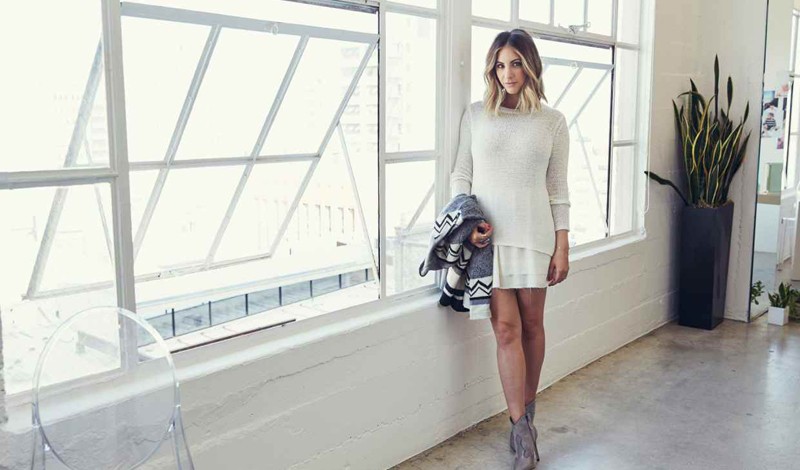 Blogger Spotlight! Emily Schuman of Cupcakes and Cashmere
|
Emily Schuman, the founder and creative force behind the lifestyle blog Cupcakes and Cashmere, can now also call herself a designer. On top of being the author of two best-selling books, landing impressive collabs since starting her blog in '08 (Club Monaco was a big one), and being a new mom, the Cali-native just launched a clothing line exclusively at Nordstrom and Shopbop with BB Dakota. Take it away, Emily! 
How did your blog get started?
I was working at AOL in advertising sales a few years out of college and felt like I needed a creative outlet. I started doing restaurant reviews and had so much fun writing them that I decided to create my own little space on the web to do so. I thought that if I only wrote about food that I might get bored, so I decided to merge my two loves together and that's how I started writing about both fashion and food.
How has your personal style evolved since starting your site?
When I was in my early twenties, it was all about experimentation on a budget. I loved trying out trends from fast fashion stores, but now that I'm in my thirties, I've really honed in on what works best for my body and lifestyle: streamlined pieces that are preppy and feminine. I've found that investing in good pieces is key and buying great staples that I'll keep for years to come is now a less scary proposition.
Tell us about your Cupcakes and Cashmere clothing line!
The inspiration is centered around three thematic locations: Los Angeles (edgy, urban), San Francisco (preppy, polished), and Malibu (relaxed, trendy). The line was developed to be mixed and matched and we really focused on quality tailoring and materials. Everything is between $80 – $180 (except the leather pieces) and I couldn't be prouder of what we put out.
Was it in the works for a while?
The launch of the Cupcakes and Cashmere clothing line was 18 months in the making. There was a lot of hard work that we poured into it and I wanted to make sure that I was tuned in to every single detail. I named each item from the 60-piece collection, chose the fabrics, went over dozens of initial sketches, and approved each piece.
Where did you look for inspiration?
I took inspiration from my everyday life, old movies, vintage fabrics I came across at the flea market and making my favorite street style looks a bit more wearable.
Have you always wanted to get into design?
I think it's every fashion-loving girl's dream to be able to design a collection, but I always wanted to design items that I never could find anywhere else. The perfect white dress, the ideal anorak, the exact day-to-night jumpsuit that I spent years searching for are now in the Cupcakes and Cashmere collection.
Do you have plans for more collections?
Yes, we are currently in the midst of designing our Spring 2016 line and our Holiday line will be out in the fall.
What's an unexpected aspect we wouldn't know about running your business?
That it's a lot harder than it looks. Since anyone can technically start a blog, most people assume that it must be pretty simple to create and upkeep. And my goal is to make it look seamless and effortlessly beautiful, though it's far from the reality. Every little detail is thought-out and intentional – from the experience on the site (both on desktop and mobile) to the photography and my social media strategy.
What's something we'd be surprised to learn about you?
That I'm quite introverted. Since so much of my life is public, I think people assume I crave the spotlight, which I really don't. 
What's your ultimate career goal?
I don't know if I ever want to put my career on a single trajectory, but ultimately, I think my goal is to keep making Cupcakes and Cashmere a source of inspiration for elevating every day. It's been an exciting and varied ride so far (author, blogger, designer) so I'm open to it all. 
Where do you think the blogosphere is headed?
The industry has definitely changed since I started doing this seven years ago, and that's inevitable. These days, people are moving to social and mobile platforms or investing in video. I'm sure that in a couple of years that will change too. We just remind ourselves to be flexible and meet the reader where they want to be met.
We have to know: What's your favorite cupcake?
A vanilla cupcake with a chocolate buttercream frosting (specifically the one from Georgetown Cupcakes).
PLUS! Emily's Five Tips For Aspiring Bloggers…
1.  Think like a reader. As a reader of blogs, I like when I know what to expect,  whether it's a schedule for posts or specific topics the blogger writes about. Think about what you like as a reader and try to create a space that addresses those things.
2.  Be yourself. Your posts will resonate when you are being authentic.
3.  Meet your friends for lunch. If you are working on your blog full-time, it can be difficult to get out of that head-space. For many years I worked alone at home and would hit a brick wall. There was no better fix than meeting a friend for lunch for a quick brainstorm.
4.  Don't be afraid to say no. When I first started blogging, I was saying yes to everything and it wore me out. Say yes only to the events you want to attend and the partnerships you believe in. Your time is important.
5.  Have fun. At the end of the day, being a blogger is an immensely fun job so take joy in it and remember the sentiment when things get overwhelming.