Industry veteran Patti Pao credits a rogue trip to a Norwegian salmon hatchery for propelling her into the high-end beauty entrepreneurship. But the age-defying enzyme she encountered isn't the only unique aspect of her business—by eschewing the traditional consumer-based retail model (which she launched with the help of onetime brand ambassador Gwyneth Paltrow), Pao has enlisted an army of dermatologists to spread the word about Restorsea's results. 
How did you get into this business?
I graduated from Harvard Business School, and I'd always wanted to be in the beauty and fashion business. At that time, in 1987 or '88, beauty people didn't know what to do with me, so I took a job with Avon. I have a science background—I got into Harvard Medical School as well—so I was adopted by the R&D group in Suffern [New York], and they introduced me to some of the leading scientists and dermatologists of the day.
How did you end up as an entrepreneur?
I had no desire to start my own beauty company. You'd have to be an idiot to do this—it's so hard. The genesis of Restoresea came around because of the greatest ingredient I've seen since I found glycolic acid and turned it into Avon Anew. I've had 10 jobs in 20 years. I was a great worker, but a horrible employee. I was good at making money for companies, which is why they put up with me, and I liked working on a variety of products and turn-around situations. That lent well to opening a consulting firm, so I opened The Pao Principal in 2005.
What kinds of work did you do as a consultant?
We focused on ghosting products for beauty companies, and worked on a lot of retail company strategies. We made our mark because we ended up writing the China strategies for pretty much every luxury goods company. In 2008, I picked up four clients in Norway, and until 2010, I went to Oslo 48 times and never saw outside of the city. One of my clients was so horrified that they offered to take me on a three-day tour of Western Norway. I didn't have the heart to tell them that I'm Chinese—I'm genetically programmed to not like nature. I'm not in good shape, but I went on this hike, and it was supposed to last seven and a half hours; it took me thirteen. On the second day, I was looking for a way to get out of hiking, and I saw a cluster of buildings on a fjord. It was a salmon hatchery that practiced synchronized hatching, which meant that they hatched 200,000 eggs all at the same time. I asked my client if I could take a tour of the hatchery. There, I saw that the workers' hands, which were submerged in this concentrated water, looked like they were 20 years old. Their faces looked much older. My search as to why led me to a man who invented the synchronized hatching at this factory. He saw this phenomenon 30 years ago, and it took him 30 years to figure out why the workers' hands looked so young—it's due to an enzyme that the salmon fry release in order to get out of their eggshell. The enzyme is a very big molecule, so it never gets past a second layer of skin, and it basically digests the dead skin cells, because that's what it was meant to do. It's the equivalent of getting microderm abrasion, continuously. In contrast, retinoids, glycolic acids, and alpha hydroxy acids are small molecules, and they work by chemically burning through layers of living and dead skin. Which isn't bad, but the problem is that when they hit the dermis, it touches the newborn skin, which is why people who use those products can experience thinning skin and irritation.
How did you formulate the product?
I convinced the professor to send me a kilo of the enzyme, and my friend, who is a formulator, and I set about trying to figure out how to maximize the ingredient in a skincare product. It took us a year—by August 2011, I had two samples, a day cream and an eye cream, and I sent them in a Ziplock bag to Pat Saxby at Bergdorf Goodman. She called me a month later and said, I want to take your line. We think you're going to be the next Crème de la Mer, and we want to be part of the story. In order to launch at Bergdorf Goodman, I needed to raise money. All I had were lab samples in a plastic bag! We ended up raising a total of $55 million in angel capital.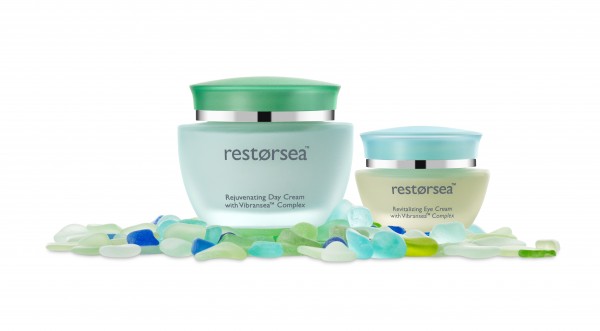 Why did investors see such potential?
Two reasons—the product really worked, and we have exclusivity. We have global IP that gives me the sole rights to formulate with this enzyme. The patent lasts for 22 and a half years, and I got it in 2015, and we keep reapplying to extend it. Our exclusivity with the ingredient company runs until 2032.
When did you launch Restorsea Pro?
September 2015. I'm an idiot—it took me three years to figure out my route to market. I started off thinking I'd be a retail brand, and we were very successful, but you don't make any money in department stores. Most brands go into them because they need to build their topline—they're willing to lose money, but they can sell themselves off to an institutional or strategic investor. I had raised $55 million dollars, so I didn't need to do that, and I couldn't go to my investors and go, Hi, I'm going to be losing money, but I'm going to have a good topline! We went direct to consumer, with Gwyneth Paltrow as our brand ambassador. She was wildly successful—she increased our credibility and awareness, she tripled our sales, but the problem is that even though she basically helped us for a nominal amount, because she believed in the brand, I didn't realize what it takes to support an A-list celebrity. The photographer was $100,000. In order to pay out all the spending that we had to invest to support her, our sales would have to increase twenty-fold. I was like, Okay, this isn't going to work. In May 2014, two very famous dermatologists called me, and they said, Hey, we really like your line, have you thought of doing a professional line? Hey, there hasn't been a great ingredient story in 15 years. You have a proven mechanism of action. Your clinical studies are impeccable. And your product is formulated with natural ingredients. I said, But I don't even know what to do! They were like, Don't worry, we'll help you. Now, we are the only medical-grade skincare line that is formulated with non-toxic products. You don't have to trade off aesthetics for efficacy. We are the only medical brand that's only sold in doctor's offices—we will never be on the Internet. These doctors are our sales force, and I want them to see they can make money off of of the product. I have 7 products, they have 35 offices, carrying maybe three or four SKUs each, and they are scheduled to sell, on an annualized basis, $40,000 to $100,000 retail.
What's the business strategy going forward?
The goal is to move our retail customers into the pro line. It's really new, but our weekly doctor sales are now exceeding our weekly Internet sales. Our doctors sold out in two and a half weeks, and now, they're tripling their orders.
Any new launches in the pipeline?
We're launching a foaming cleanser this month—the foamer isn't in the formula, but it's in the pump mechanism. It's a great exfoliator, but it does not strip the skin of its essential oils. In may, we're launching a new eye cream, and that was at the request of our doctor's offices—customers wanted to put something more hydrating over the eye serum.
Given that this unexpected hike turned into a great business opportunity, are you more of a fan of the great outdoors?
No. My fantasy is to sit in my living room, on my couch, with my cat. I changed my eating habits, so I eliminated the pizza.