Ayler Young doesn't have a typical fashion background for starting his own label, but perhaps that's what sets him apart. The trained musician brought his creative talents to the fashion biz with Philip Ayler, a line of unique, limited-edition bomber jackets made in exclusive fabrics that simply make us swoon. Already loved by stars like Rita Ora, Gigi Hadid, Lady Gaga, and Mick Jagger, to name a few, Young is one to watch.
You have a background in music—what sparked your interest in fashion design?
I have always enjoyed the process of creating things. When you sit down to create a song, you have many elements that you can choose from that somehow come together to create a whole. You have the lyrics, melody, beat, baseline, instrument choices, dynamics, effects. Every decision that you make will affect the outcome and ultimate success of what you are creating. It's been helpful to have this understanding from music as I begin to launch my first fashion brand, Philip Ayler. There are 38 individual pieces that go into making one of my jackets. I try to examine and refine every individual ingredient so that when they are assembled, everything works. No detail is too small…every decision matters.
When did you decide to launch your brand?

I first had the thought about creating a bomber jacket company less then a year ago.I decided to launch the brand when the products I was making reflected and communicated the feeling that I intended for them. Mainly I wanted them to be comfortable and make people feel good. I focused mainly on the fit and how to make them feel better than most other jackets. Then I focused on the "wow" factor, which led me to discover these rare vintage fabrics.
Why did you feel there was a void in the marketplace?
I didn't. There is no shortage of incredible garments out there, but you can always open markets up with a little creativity, powerful ideas, and a great new product that people didn't know they wanted until they actually saw it.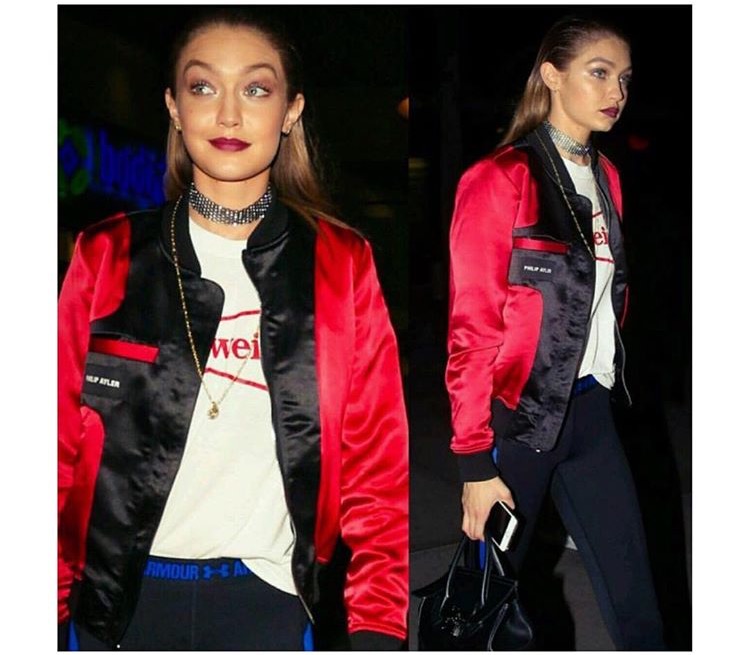 Who was the first celebrity to wear your one of your jackets?
Lana Del Rey was one of the first musicians to post a picture wearing one of my jackets. It was exciting to see it get 500,000 likes in under an hour and over 20,000 comments. She eventually had to take it down because it was getting too much attention. Her fans are incredible and very engaged, which is awesome.
Will you follow the fashion calendar in terms of releasing seasonal collections?
No, I don't necessarily feel the need to follow the traditional fashion calendar. These jackets don't rely on following fashion trends or seasons. Most of them can be worn year-round. There is a timeless quality to them. I am excited to show my first full collection in NYC this Fashion Week.
You have a special story about designing jackets for Guns N' Roses. Details!
I met Axl Rose about 10 years ago in New York. He came over to my apartment on Bowery with a group of friends and we played music for a few hours. He went into a full rendition of "November Rain," which was a moment I will never forget. When I first started making these jackets last year, I was approached by another friend who works with the band and he asked me about the jacket I was wearing. I told him that I had just made it that week in LA. A few days later, he called and asked me if I would be willing to make the official Guns N' Roses tour jackets for the Not In This Lifetime Tour…how could I say no?
Favorite Guns N' Roses song?
"Paradise City" was the first song of theirs that truly changed my DNA. It's great to see them back together again making music after all these years.
What's your retail expansion plan?
I'm working on a couple of new capsule collections and collaboration projects that I am excited to release this year. Our jackets are currently available at What Goes Around Comes Around in Beverly Hills, Soho (NYC), and Miami, as well as the new Webster store in Costa Mesa. Our production capabilities should allow for a large amount of growth this year.
What's the price point?
The low end is $1,050, middle $1,495, and the high end is $1,995. The prices vary depending on the quality, vintage, and rarity of the fabrics.
Where do you source your fabrics?
The majority of my fabrics come from France and Italy. However, I often buy them in New York or Los Angeles for convenience. I have been fortunate enough to find a few fabric mentors. I recently traveled to Paris for Première Vision, but found the best stuff in markets outside of town. You really have to search for this stuff.
How do you see your brand expanding?
As a new brand, I think it's important to not get ahead of yourself. We will be doing all the setup work, so that when opportunities arise, we will be ready.