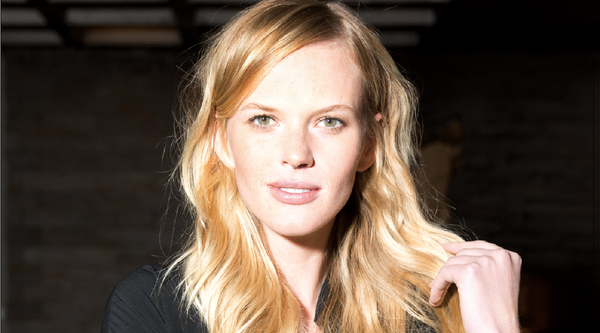 Anne V. On 'The Face', Being A Sports Illustrated Babe, And Much More
|
(NEW YORK) Blonde stunner Anne V. has a decade of appearing in the Sports Illustrated Swimsuit issue and stalking the runway for the likes of Prada and Victoria's Secret under her belt. Next up? A seat next to Naomi Campbell and Lydia Hearst as a mentor on the second season of Oxygen's The Face, which premieres tonight at 10 p.m. EST. We met up with Anne at Modellounge X Microsoft to find out what it's really like working with Naomi, how she deals with life in the tabloids, and to get the scoop on her first few months as a U.S. citizen.
BY EDDIE ROCHE
Why did you decide to do The Face?
I've never done TV, so I was waiting for the perfect opportunity. The minute we started filming it's like these girls become your kids. You get so invested in them. I came to New York when I was 15 years old and never really had a mentor myself. I absolutely love the idea that—even on a small scale—I can help them.

You shoot a season in a very short amount of time.
Yes. Just over a month. It's probably one of the craziest things I've ever done in my life. On the show you have to do so much more than mentoring. You become a stylist, art director, photographer, videographer, speech writer—I've never really done those things even for myself because on shoots you have people doing it for you. It was really challenging for me, but it was really exciting at the same time to learn how to do something else.
Does it get emotional because you are so tired?
I'm actually a workaholic and I don't really need that much sleep. When I do something that I love I don't really care about the hours. You get emotional because you have four girls you mentor and you really want them to do better. They go through such an emotional roller coaster. I'm a very strong person and I literally cried like a baby in every single episode.
Did you break down on camera?
All the time. In the beginning you are very aware of the camera, but then you learn how to accept it. What we do in modeling is the same thing. You have a hundred people on set sometimes and you're shooting in lingerie or a bathing suit, and you have to pretend that the photographer is your boyfriend.
Will it be weird to watch yourself crying when the show airs?
I don't really know. I really wanted people to see who I was.
Did you ever have moments where you got really angry?
Absolutely! Not really bitchy, but Naomi, Lydia [Hearst] and I have very strong personalities. We've known each other for a long time. There is going to be some confrontation because they want their girls to win as much as you do. Let's put it this way: everyone plays differently. I've always played very fair. If someone deserves to win and if it's not my girl, if it's another girl who is better—that's awesome, I'm happy for them. Naomi is tough. She's very tough and she wants to win. She'll push your buttons so much and challenge you…
Were you intimidated by Naomi?
Absolutely. In the beginning I was so petrified of meeting her because she's an icon. Once you see there is a person behind all of that, she doesn't really intimidate you, but when she becomes "Naomi" it's…
What does it feel like?
When she would yell at me? It's petrifying, but then you just have to stand your ground. I think she respects people who have an opinion. If you don't give that to her she can walk all over you and she'll enjoy it so much!
Let's talk about your career! What are you most proud of?
I look at where I am and I can't &$#!ing believe that I'm here. I can't believe I'm in New York. I've been in Sports Illustrated like 10 years in a row. I remember the first time. I never thought they were going to take me because I was 18 and didn't really have like big, ginormous boobs. And then they did! Then I have brands like Prada, for example, who book me for their show every few years. I started working with them when I was 15. Now I'm 27 and I'm still working with them. I feel so blessed.
Why didn't you do the Victoria's Secret show this year?
I didn't do it because I was judging Miss Universe in Russia. I've done the show so many times. And I couldn't resist, I've been the biggest fan of Miss Universe; I watched it as a kid.
We hear you became an American citizen in November!
In a way I always feel like I'm living this dream: a kid who comes to America at 15, who doesn't speak a word of English. My parents were not with me, I just had to learn everything by myself. Even though I'm so Russian, I don't really have a Russian mentality. I did everything you had to do to get my citizenship. I had my green card and then I waited for five years. Then I had to apply for a passport, had the interview, and had to learn the answers to 100 questions about America. There's a lot about history. 'How many senators are there in New York?' 'How many branches of government do you have?' 'What's the longest river in America?'
So what's the longest river?
The Mississippi.
Your last name is Vyalitsyna. Why do people call you Anne V?
My first agency was IMG. They were like 'No one can pronounce your last name, we'll just put Anne V.' I was so mad about it for the longest time, then I finally was like you know what, it's so much easier. It kind of sounds like Jay Z. I feel bad because in a way I feel like I was the first one who started that trend. People started to be lazy and not pronounce the difficult last names of the girls, and they just started to shorten it to the first letter. I feel really responsible for that. But I know my last name is really long and a lot of people are scared to say it out loud.
If you were to go to college, what would you major in?
If I had gone when I was younger, I really wanted to do something with biology and chemistry. If I went now I would probably do something to learn more about economics and finance, something that will help me in my career in the future.
What's the hardest part of modeling?
The worst part is that you don't really see the people that you love so much. Sometimes you miss a lot of important things. You miss birthdays and anniversaries, and that's very hard. And to find people in your life that really understand that is very tough.
Speaking of people you love…you're sometimes in tabloids. Do you read things about yourself?
If someone sends it to you, you read it. I've been through public relationships and there is nothing worse than when you break up with someone and it gets everywhere. You just want to crawl under your covers and die. I guess it just comes with the territory. But I try to keep it as private as I can. At the end of the day we all want to love and be loved. I want a normal relationship like everyone else. I want to have a family. I want to have kids and I want to be married to one man forever. You have to protect that, because we don't live in a normal world.