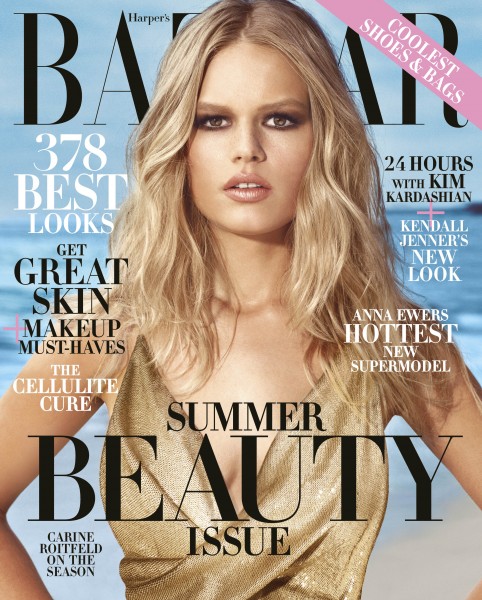 Anna Ewers gets the star treatment from Harper's Bazaar with her very own cover and interview for their May issue. Inside, her pal Alexander Wang tells them about their first meeting. "When I met Anna, at first she was very timid," he says. "But there was something in her posture and in her look that I immediately felt drawn to. She is quietly confident and kind of nonchalant and unfussy about her sexuality and her beauty. She has a versatility that is unique. Kind of like the original supermodels."
Ewers also reveals that it wasn't her native country Germany where she started her career, but Colombia when she was an exchange student. "There was a model in my high school. She was like 'You're so pretty. You should come see my agency.'" Ewers had a hunch it would go well. "Well, it's Colombia, of course they like me—I'm blonde, I have boobs. But in Germany there are so many blonde, beautiful girls with boobs." The issue also spends 24 hours with Kim Kardashian and reveals a new look for Kendall Jenner.
The new issue of Harper's Bazaar comes your way on April 21st.