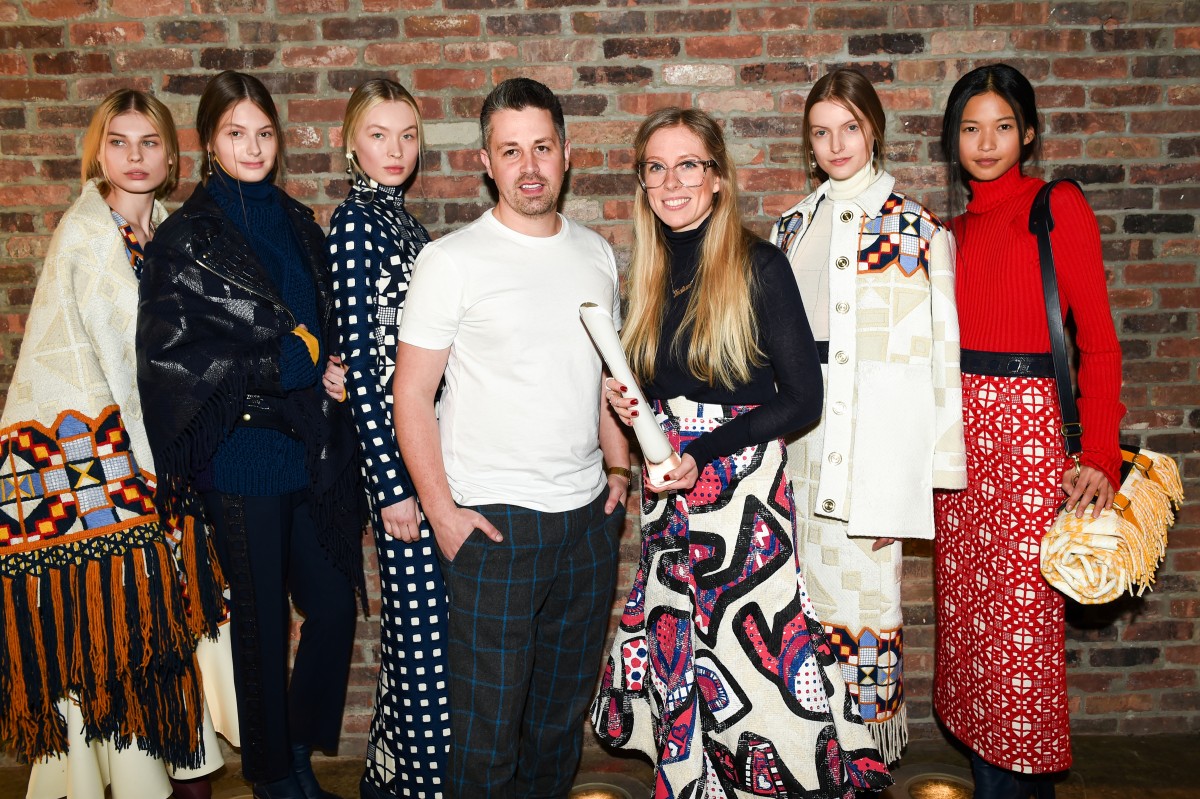 Last night, six labels showcased their latest and greatest creations at the 2015/16 Womenswear International Woolmark Prize runway competition at Cedar Lake in NYC. The winner this year: the U.K.'s Teatum Jones, designed by husband and wife duo Catherine Teatum and Rob Jones, who walked away with some serious funding, a mentorship, and a slot in stores and boutiques worldwide (MyTheresa, Harvey Nichols, and Saks Fifth Avenue, to name a few).
Fashion types from Coco Rocha and Fern Mallis to InStyle's Ariel Foxman, as well as a touch of Hollywood (Kate Bosworth was spotted next to Rocha), were seated front row for the runway competition, judged by an esteemed panel including André Leon Talley, Tim Blanks, Julie Gilhart to Imran Ahmed, Stefano Tonchi, former Woolmark Prize winner Thakoon Panichgul, and Woolmark's Colette Garnsey and Stuart McCullough.
"I couldn't believe that I was asked," Leon Talley said on judging the collections. "It's the most prestigious award, because it's associated with Yves Saint Laurent and Karl Lagerfeld."
In terms of choosing a winner, Leon Talley and Blanks agreed it was an obvious choice. "Normally in a competition, what makes it tricky is that you're comparing things which can't really be compared, especially when it's international," Blanks told us. "But with this, there was a remarkable level of consistency, in all of the criteria. It was easier to judge."
"We had to think about, Will these clothes sell in the stores? We weren't just picking edgy creativity," Leon Talley added.
For the winning collection, Teatum Jones took cues from Foxford Woollen Mills, which was created by an English nun in the 1800s to supply blankets for an impoverished town. Teatum and Jones traveled to the mill to design blankets, which they transformed into wearable outfits embellished with embroidery and prints.
With their weighty prize in hand, we polled the designers on their winning moment and what's next…
Congrats! The prize looks heavy…
CT: It's heavy! [To Rob] You hold it!
Did you think you were going to win tonight?
CT: Not at any second do you ever take that for granted! There are so many talented people here.
RJ: We are very proud of what we've achieved, so we were confident, but I would never take that as winning! We would have gone home happy knowing we'd done our best.
Had you met any of the judges before?
CT: A couple of them…but still a major room to be talking to!
Were you nervous?
CT: We were so excited and really proud of what we created, and we just wanted to go in there and tell them about it.
RJ: To have that many great people in one room focusing on you for 15 minutes…we were like, we need to enjoy this and go in there and do it.
What's next?
CT: London, next weekend!
RJ: We're really trying to push innovation with textiles. With this award we'll be able to take it to the next level.