Amber Valletta is no Met Ball newbie, and in the past has graced the red carpet in couture designs from Atelier Versace and John Galliano. This year the model and actress took a new direction, collaborating with mass retailer H&M to design her ensemble for the 'Manus x Machina' theme. Her date/hairdresser, Teddy Charles, also dressed in H&M, looked dapper in a wool tuxedo. The Daily chatted with Valletta while she was prepping for the main event to learn about the eco-chic endeavor.
Why did you choose H&M to dress you for the Met Ball?
They asked me, and I loved the concept behind the dress. They said that they were going to make it consciously and sustainably with the materials, and to me that is where fashion and technology are going. It's innovative and cool and modern.
What do you think the reaction will be when you and Teddy walk the red carpet?
Fireworks! [Laughs] He's pretty handsome—it's like walking the red carpet with superman. We're not Beyoncé and Jay-Z, but we look great together, the clothes are beautiful, and his tuxedo is really handsome.
Were both of your outfits custom made?
Yes, and both are consciously made with sustainable materials. My dress is organic silk and taffeta with hand-cut petals. There's over 1,000 little petals on it. And recycled plastic paillettes, and laser-cut feathery pieces of material. All is handmade, so it's couture.  For embellishments, they used recycle plastic sequins, and there's some black mesh at the waist. The dress, when the light hits it, reflects a lot of light. And Teddy's suit is all organic wool. Everything was tailor made for us. H&M was very collaborative, so they were great in letting us participate in the looks with  any little changes we wanted to make.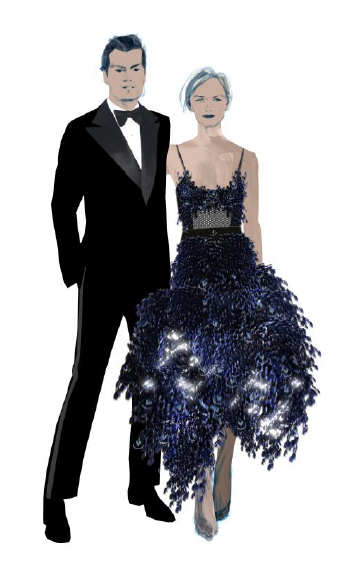 What were some personal requests?
I wanted them to open the back a little bit more. We lowered the front and opened the leg—just showing some more skin in an appropriate way! And some small things—like we wanted the straps to be a little thicker and more sporty. Other than that, the design was great. We left a lot of it up to them.
How long was the collaborative process with H&M creative director Pernilla Wohlfahrt?
We knew about it back in March, but we started about six weeks ago with fitting and measurement and all that. I've done three fittings. The same for Teddy—he did maybe two fittings.
You've been involved in the sustainable movement for a while—what changes have you noticed?
People are starting to become more aware as consumers about the need for more transparency within the fashion industry, and for materials that are responsible or recyclable or produced in an ethical way. The industry is realizing how important and necessary it is. It's not about charity or tree hugging. We live in a united world now. We don't have the luxury of extrapolating and taking resources in a way that is damaging to the environment. We also can't afford to let poverty be so out of control. People deserve fair wages and to work in safe environments. The world is just too connected, and there's so much transparency that needs to happen because we are so connected. In the next decade you're going to see a very, very big shift in the fashion industry, and it needs to happen! We're the second biggest polluter in the world, next to oil. And we employ 1/3 of the world within the luxury fashion industry.
So you're going to let the world know tonight!
We'll definitely have some impact! But it's definitely a mission of mine. I know in my lifetime we'll see a very big change in the industry, and we should! That is where all businesses are going. It's not about charity, it's just really smart business.
It's already 3:30—what time do you start getting ready?
Are you serious, do you really want to know? [Laughs] I've been up since 8:20, and I started working out at 9, and I haven't stopped since. I drink a juice, shower, put on a mask, and then I had multiple interviews. And I had a film crew in here. I still haven't really finished my hair, so that's next—my hairdresser is busy getting ready himself! I probably should have let him have the day off. It has been nonstop. After the Met Ball, as much as I want to go to parties and I probably will, I'll be running on fumes.
Tell us about the hairstyle by Teddy!
It's very simple; we're keeping it classic but at the same time really modern and fresh, off the face and back. We're using a little bit of my natural texture with some product. The dress is really powerful, and we just want the makeup and hair to accentuate but not overpower the look.