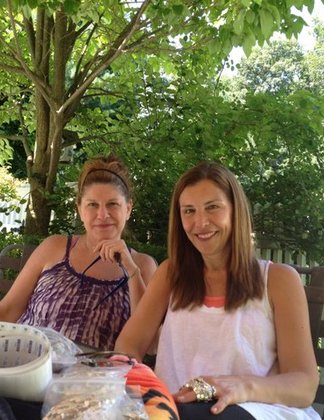 All Stacked Up! With Sisco Berluti
|
Attention, bracelet fiends: if you haven't added Sisco Berluti's handmade, gorgeously beaded sparklers to your arm party, it's about time. These intricately-wrought stackables are crafted by sister act Carolyn Berluti and Lisa Sisco in the 'burbs of Boston, and have garnered celeb adorers like Jessica Alba, Rachel Bilson, and Vanessa Hudgens. The brand get its karmic kick by donating to causes like Half The Sky, which benefits orphans in China. Recently, the brand added even more sparkle to its melange of new and vintage beads thanks to its pavé collection. (And by docking prices of their essential line of bracelets to $40 to $68 per bauble, that wrist-adorning addiction is only going to intensify…). Read on for the full sisterly scoop!
Why did you two decide to launch a bracelet brand?
Lisa Sisco: We never intended on starting a jewelry business; we were just making them for friends and family. It happened by accident!
How did the line morph from a friends-and-family affair to a business?
Carolyn Berluti: I was showing them to a friend in a Starbucks, and a woman came up and bought some from me. Then, one day we wore our bracelets into a boutique and the store ended up buying them.
What were your gigs before launching the line full-time?
Carolyn: I have four kids, and I was a stay at home mom. It's awesome timing for me, because my youngest just went off to college. It was a seamless moment of, "Oh wow! I have a job now, this is fun!"
Lisa: I'm a college professor. I have a lot of flexibility, which is great. I can spend some days here and some days there, and I have the summers off, which is really nice.
Do your students know that you moonlight as a jewelry designer?
Lisa: They do! At first they didn't know, but I teach communications and marketing courses, so now it's sort of an essential part of what we talk about in class. It also gives me a certain level of credibility, because I teach in an MBA program. So my students look at me not only a communication professor, but also as a business owner.
Do you powwow regularly?
Lisa: We always work together on Mondays, often at Carolyn's house. That's our day to get together and do our online orders. During the week, we'll work at nights or on the weekends.
Are there any specific celebs you'd love to see donning your line?
Lisa: Steven Tyler is a local [Boston] guy, so I'd love to see him wear our bracelets.
Carolyn: I'd like to see Beyoncé wearing Sisco Berluti.
How long does it take to create the bracelets?
Lisa: Anywhere from five minutes to an hour. We never really sit down and make a stack—we just gather a bunch of beads together and put them in a big row. Some bracelets are harder to do than others. The possibilities are endless! A lot of customers like to put together their own stacks.
How many bracelets do you stack on daily?
Lisa: I wear seven bracelets, because we have seven other siblings.
Carolyn: Oh, I wear at least seven!
Does it become a family affair?
Carolyn: Absolutely! One of my daughters who's in college helps out during the summers. When we started, my husband would cook on Sundays, and we sit and drink wine and sit with our beads. That's how we really started before we even selling anything.
Lisa: We have two other sisters, and whenever they come visit, that's what we do.
What are your dream retailers?
Carolyn: Places like Intermix, Scoop, Neiman Marcus, and Bloomingdale's. We also like being in little boutiques.
Lisa: The neat thing about being in smaller boutiques is that we've gotten to know the boutique owners. They'll post pictures of our bracelets on their Facebook pages—it's like we have this great conversation about what's new and what's coming in.
Any desire to expand beyond bracelets?
Carolyn: We'd love to start doing necklaces, once we put the business on a larger scale.
Lisa: We've also thought about scarves. We eventually want to design scarves, then do some bracelets to go along with them.