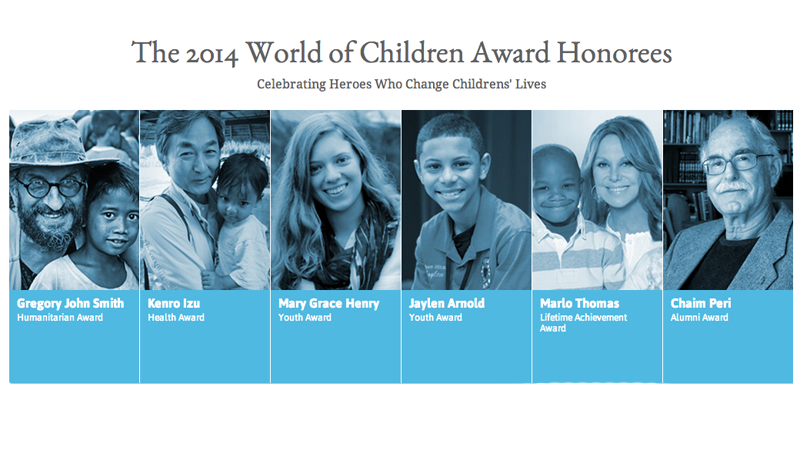 World of Children® Award to Hold 2014 Annual Awards Ceremony
|
When:
November 6, 2014 @ 5:00 PM
2014-11-06T17:00:00-05:00
2014-11-06T17:30:00-05:00
Where:
583 Park Avenue
Park Avenue & East 63rd Street
New York, NY 10065
USA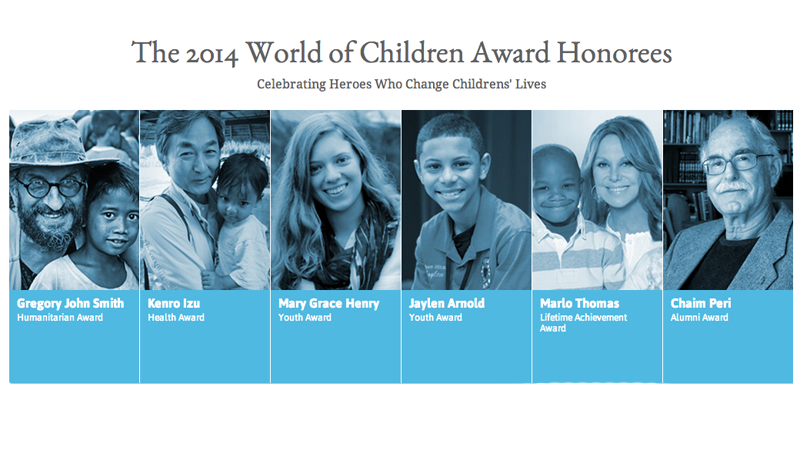 World of Children Award will host their 2014 Annual Awards Ceremony on Thursday, November 6th at 583 Park Avenue (at East 63rd St) in Manhattan. Ceremony begins at 6:00 PM.
National Outreach Director of St. Jude Children's Research Hospital Marlo Thomas will receive the 2014 Lifetime Achievement Award and President and Chief Merchandising Officer of Neiman Marcus Jim Gold will receive the 2014 World of Children Board of Governors' Award.
Celebrity Ambassador Stephanie March (Actor, Law & Order SVU) will serve as Award Presenter and Alina Cho will serve as Master of Ceremonies.
2014 Awards Ceremony Co-Chairs are Mary Lee Broder, Amy Dorgan, Frances and Francis Fraenkel, Karen Mayell, Ann O'Malley, Marco Pievani, Jamie Barry and Jerry Politzer. World of Children Award Board Members are Founders Harry Leibowitz and Kay Isaacson-Leibowitz, Jill Beraud, Devin Beresheim, Francis Fraenkel, Jim Gold, Leon Harris, Bertan Kalatchi, Archana Kumar, Frank LaFasto, Ranjan Manoranjan, Maxine Martens, Karen Mayell, Ann O'Malley, Sandy Piontak, Jerry Politzer, Roberta V. Romberg and Sue Steinberg.
The 2014 World of Children Health Award will go to Kenro Izu, founder of Friends Without A Border, which helps to provide pediatric healthcare to children in Cambodia and Laos. Gregory John Smith will receive the 2014 Humanitarian Award for transforming the lives of street children in Brazil through his programs Rede Cultural Beija-Flor and Children At Risk Foundation. Chaim Peri, Ed.D., will receive the Alumni Award for his leadership at Yemin Orde Youth Village in Israel that provides a home for children around the world who have been uprooted or are from dysfunctional homes. The 2014 World of Children Youth Awards will go to Jaylen Arnold for his dedication to ending bullying and showing children how to appreciate differences as part of Jaylens Challenge Foundation and Mary Grace Henry for founding Reverse The Course, a social business that sells headbands to fund education for underprivileged girls.
World of Children Award improves the lives of vulnerable children by funding and elevating the most effective changemakers worldwide. In its 17-year history, World of Children Award has invested more than $6 million in programs led by 100 Honorees serving vulnerable children worldwide.
To learn more, visit http://www.worldofchildren.org/